Martha J. Jantho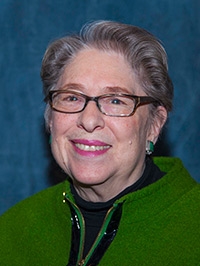 Martha J. Jantho is a native of Brooklyn, New York. She grew up in Malverne, Long Island, New York. A graduate of the Executive Secretary program of Katharine Gibbs, she attended Adelphi University and graduated with a Bachelor of Arts degree, Magna Cum Laude. She received a Masters of Social Work degree from the University of Illinois' Jane Addams School of Social Work.
A former Chicago Board of Education member, she served as its Vice President and as Chair of the Committee on School Desegregation. Other volunteer activities include the City Club of Chicago, the Friends of Harold Washington College, and the Newberry Library Book Sale Committee.
Martha has been a school social worker as well as a clinical social worker in a hospital setting. She has been a consultant on matters relating to urban education for the Illinois Office of the Governor, the Chicago School Finance Authority, and the Education Commission of the States.
She established schools for high school drop-outs, Middle Colleges, at the campuses of Truman and Olive-Harvey, two of the City Colleges of Chicago and has worked in various facets of community relations for the Chicago Public Schools.