President's Letter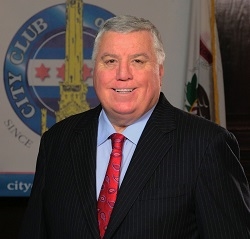 Jay D. Doherty, City Club of Chicago President
Dear friends,
It is my privilege to welcome you to the City Club of Chicago—Illinois' leading non-partisan public affairs forum. Since 1903, we at the City Club have made it our mission to provide engaging discussions on major issues of today. We are honored to have had such notable speakers, such as President Barack Obama, Cook County Board President Toni Preckwinkle, Vice President Mike Pence, and President Trump.
Whether it's political, academic, business or social in nature, we present it and discuss it at the City Club of Chicago. None of this could be done without our sponsors and members. I ask you to join our community of over 2,000 members because every member counts. Take the initiative to become a civically engaged citizen.
All our content is readily available to the public with our social media and livestreaming of events. I highly encourage you to explore our website to learn more about the City Club of Chicago's lasting impact.
Jay D. Doherty, President