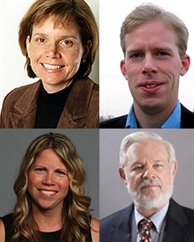 The State of the Union: President Trump's First 100 Days in Office
Monica Davey, John McCormick, Kristen McQueary, and Richard Longworth
Thursday, May 4, 2017
11:30 a.m. reception/12:00 p.m. luncheon
Location
Maggiano's Banquets
111 W. Grand Avenue
Chicago, IL 60654
Map and directions
Speakers
Monica Davey
Monica Davey is the Chicago Bureau Chief of The New York Times. She works in a dual role as an editor and reporter based in Chicago, a bureau that covers 11 states in the Midwest.
Davey has worked at The Times since 2003. She has covered street violence and police conduct in Chicago, the nation's largest municipal bankruptcy in Detroit, and the water crisis in Flint. She has written about the fast-changing political landscape across the Midwest; shifts in farming, oil, labor unions, and factories; and the demise of more than a few Illinois politicians.
Davey, a Chicago native, previously worked at the Chicago Tribune, the St. Petersburg Times (now the Tampa Bay Times), The Roanoke Times and the City News Bureau of Chicago. She received a bachelor's degree in linguistics from Brown University.
John McCormick
John McCormick is a Political Reporter for Bloomberg News. McCormick covered his fifth presidential campaign in 2016, focusing on polling, political advertising, and the nomination process.
In 2008, he traveled to roughly 40 states with Barack Obama and four years later he visited dozens with Mitt Romney, giving him on-the-plane experience with both a Democratic and Republican presidential nominee.
Before joining Bloomberg News in 2009, McCormick was a Reporter at the Chicago Tribune, where he did investigative and project reporting, and covered major news stories in Chicago and across the Midwest. Prior to joining the Tribune in 2002, McCormick worked at The Des Moines Register, where he initially worked as a business reporter before becoming the paper's first computer-assisted reporting coordinator. He also helped cover the 2000 Iowa Caucuses and was one of two Iowa Poll writers.
McCormick was born in St. Paul, Minnesota and earned his bachelor's degree from the University of St. Thomas (Minnesota).
Kristen McQueary
Kristen McQueary is an Editorial Board Member of the Chicago Tribune. Her areas of focus include government, politics, education, and candidate endorsements.
Before joining the Tribune in 2012, McQueary wrote a political column for the Sun-Times News Group's SouthtownStar and covered the statehouse for Chicago Public Radio and the Chicago News Cooperative, which published in The New York Times. McQueary is a former President of the Chicago Headline Club and also previously worked for the Peoria Journal Star.
A native of Rockford, McQueary earned her bachelor's degree from Illinois State University and a master's degree from the University of Illinois Springfield.
Richard Longworth
Richard Longworth is Distinguished Fellow at the Chicago Council on Global Affairs. He is the author of three books on globalization, including On Global Cities and Caught in the Middle: America's Heartland in the Age of Globalism, on the impact of globalization on the Midwest.
Longworth joined the Council in 2003 after a career in journalism, most recently as senior correspondent for the Chicago Tribune. For 20 years, Longworth was a foreign correspondent for the Tribune and United Press International and was the Tribune's Chief European Correspondent. He has reported from 80 countries on five continents.
Longworth graduated from Northwestern and won NU's Alumni Merit Award in 2000. He was a Nieman Fellow at Harvard, won the Overseas Press Club award twice, for series on globalization and the UN, and was twice a Pulitzer Prize finalist. He won every major national award for economic reporting, plus the Lowell Thomas award for a story on a camel trek through the Sahara. He has been a speaker at the Davos conferences and is a former mentor to StreetWise, Chicago's newspaper for the homeless.
« Back to past events
Upcoming events
Clerk
City of Chicago
Wednesday, Oct 18, 2017
11:30 a.m. reception/12:00 p.m. luncheon
United States Representative
State of Illinois, 2nd District
Monday, Oct 23, 2017
7:30 a.m. reception/8:00 a.m. breakfast
Events sell out quickly!
Don't miss an event. Keep up with the City Club of Chicago.