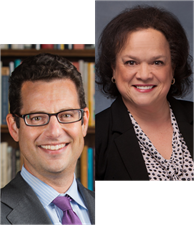 Quality, Equity, Community and Collaboration: A Conversation with Illinois State Board of Education Leaders
Dr. Carmen Ayala, State Superintendent and Darren Reisberg, Board Chair
Wednesday, Oct 30, 2019
11:30 a.m. reception/12:00 p.m. luncheon
Save to calendar
$35.00 Member
$35.00 Member Guest (Join now!)
$50.00 Non-member (Join now!)
$750.00 Sponsor
Register now Seating is limited
Location
Maggiano's Banquets
111 W. Grand Ave.
Chicago, IL 60654
Map and directions
Speakers
Carmen Ayala
Prior to her arrival at the Illinois State Board of Education, Dr. Ayala had served since 2012 as the superintendent of Berwyn North School District 98, where she steadily turned around lower-performing schools.
She previously served as an executive board member on the Latino Policy Forum, where she championed equitable funding and increased resources for English Learners.
Throughout her career, Dr. Ayala has received multiple honors, including the 2018 Leadership Award and the Excellence in Education Award from the League of Latin American Citizens, as well as the Kane County Distinguished Educator award.
She earned her bachelor's degree from Mundelein College with a focus on bilingual-bicultural education and Spanish literature. She went on to earn her master's degree in business administration from Dominican University and her doctorate in educational leadership and policy studies from Loyola University of Chicago.
Darren Reisberg
Darren Reisberg was appointed to a four-year term as Chair of the Illinois State Board of Education by Governor JB Pritzker in February 2019. He has an extensive background in education policy, law, and higher education administration.
Darren currently serves as the Vice President of Programs and Strategy at the Joyce Foundation. Prior to the Joyce Foundation, Darren worked for seven years at the University of Chicago, most recently as Vice President for Strategic Initiatives and Deputy Provost and initially, with David Axelrod, as the first Executive Director of the University's Institute of Politics.
From 2005-2012, Darren served as General Counsel and Deputy Superintendent of the Illinois State Board of Education, overseeing, among other areas, the agency's legal department and legislative affairs. He began his career in Chicago as an employment and labor attorney at Sidley Austin LLP after serving as a judicial law clerk for U.S. District Court Judge Rebecca R. Pallmeyer.
Darren received his bachelor's degree in political science at Duke University and earned his Juris Doctor degree from Yale Law School.​
« Back to events
Upcoming events
President
Chicago State University
Tuesday, Sep 24, 2019
11:30 a.m. reception/12:00 p.m. luncheon
CPD Supt. Eddie Johnson
Thursday, Sep 26, 2019
7:30 a.m. reception/8:00 a.m. breakfast
Events sell out quickly!
Don't miss an event. Keep up with the City Club of Chicago.