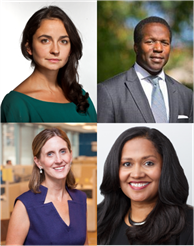 Beyond the Loop: Expanding Economic Prosperity
This event will be rescheduled - new date forthcoming
Friday, Jan 1, 2021
Postponed until further notice
Save to calendar
Register now Seating is limited
Location
Maggiano's Banquet
111 W. Grand Ave.
Chicago, IL 60654
Map and directions
Speakers
Evelyn Diaz
As President of Heartland Alliance, Evelyn Diaz is responsible for directing domestic and global strategy for Heartland Alliance's five nonprofit corporate entities, with a combined budget of $120 million and 1,400 employees in 12 countries.
Previously, Ms. Diaz was appointed by Mayor Rahm Emanuel to lead the City of Chicago's Department of Family and Support Services where she was responsible for administering an annual budget of $330 million to deliver social service programs to over 300,000 Chicagoans in the areas of children, youth, homelessness, domestic violence, aging, workforce development and human services.
Before joining Mayor Emanuel's cabinet, Ms. Diaz was Deputy Chief of Staff to former Mayor Richard M. Daley, coordinating the City's human capital departments and overseeing initiatives related to poverty, jobs, and economic security. She was later appointed by Mayor Daley as chief executive officer of the Chicago Workforce Investment Council, which was charged with addressing labor market shortages in key industries through a data-driven collective impact model.
Prior to working in the government sector, Ms. Diaz was Associate Director of the Chicago Jobs Council where she coordinated Opportunity Chicago, a $23 million initiative to assist thousands of public housing residents gain employment. She has also worked as a direct practitioner providing individual and group counseling to domestic violence victims; managing programs for homeless women in shelter; and coordinating economic development initiatives and social service projects in Chicago's 46th Ward.
Ms. Diaz received her graduate degree from the University of Chicago's School of Social Service Administration and her undergraduate degree from the University of Notre Dame. She was named Social Worker of the Year in 2014 by the National Association of Social Workers; she was a Chicago Council on Global Affairs Emerging Leader; and she has won several change-maker awards. She currently serves on the governing boards of the National Skills Coalition, Rebuilding Exchange, Forefront, Thrive Chicago and the Institute for Non-Violence Chicago.
Derek Douglas
As Vice President for Civic Engagement and External Affairs, Derek Douglas leads the University's efforts with respect to civic engagement, corporate partnerships and urban development. In this regard, Douglas spearheads the University's efforts to engage with, and have a direct impact on, the lives of people living in Chicago and in cities across the country and around the world.
To that end, Douglas manages/co-manages a portfolio that includes a number of the outward-facing units of the University, including: Commercial Real Estate/Economic Development, Office of Business Diversity, Office of Civic Engagement, Office of Corporate Relations, and the Offices of Federal and State Government Relations. In addition, Douglas shares oversight responsibility for the civic/community engagement work of the University of Chicago Medical Center (UCM) through its Community Health Engagement/Urban Health Initiative.
From 2009 through 2012, Douglas served on the White House Domestic Policy Council (DPC) as Special Assistant to President Barack Obama for Urban Affairs, where he led the White House's work on urban and metropolitan policy issues. Prior to his White House service, Douglas worked as Washington Counsel to New York Governor David A. Paterson and Director of New York State's Washington, D.C. Office. In this capacity, Douglas acted as the Governor's chief architect for federal policy and oversaw federal policy development and advocacy on domestic, economic, regulatory and urban policy issues for the State of New York.
Douglas also has served as Associate Director of Economic Policy at the Center for American Progress (CAP) where he founded and served as Director of the Economic Mobility Program. Prior to joining the CAP, Douglas was a Counsel at O'Melveny & Myers LLP and an Assistant Counsel at the NAACP Legal Defense and Educational Fund.
Douglas serves on the Boards of Argonne National Laboratory; Low Income Investment Fund (LIIF); Skills for Chicagoland's Future; University of Chicago Laboratory Schools; Teach for America (Chicago-Northwest Indiana) and the Skadden Fellowship Foundation.
Douglas graduated from the University of Michigan with Highest Honors in Economics and from the Yale Law School.
Alexia Elejalde-Ruiz
Alexia Elejalde-Ruiz covers the food industry for the Chicago Tribune's business section. She previously wrote about workplace issues, including a series of stories about high rates of youth unemployment in some Chicago neighborhoods. Alexia was a features reporter for the Chicago Tribune's lifestyles section before she moved to the business desk in 2009. Before that she was a staff writer at RedEye, the Daily Herald and the City News Service, where she covered crime. Alexia grew up in Washington, D.C., and has her degree in international relations from Brown University. She lives in Logan Square with her husband, Rahul, and their dog, Kaya.
Marie Trzupek Lynch
Marie Trzupek Lynch, a passionate leader for advancing economic mobility for Chicagoland residents, is the founding President and CEO of Skills for Chicagoland's Future. Skills, a nonprofit, creates demand-driven solutions for employers to get unemployed and underemployed Chicagoland residents back to work. Currently, Marie is aggressively working with her leadership team on scaling Skills' work and impact locally, and has a continued focus on the national replication of Skills including the successful launch of Skills for Rhode Island's Future in the fall of 2016. Marie was a member of Mayor-Elect Lightfoot's Business, Economic, and Neighborhood Development Transition Committee, and also supported Gov. Pritzker's transition into office as a member of the Job Creation and Economic Opportunity Transition Committee.
Previously, Marie launched and served as founding president of Chicago Career Tech, a career retraining initiative for unemployed emerging- and middle-income Chicagoans. She also spent eight years working for the YMCA in the roles of Executive Vice President of Human Services and Housing for the YMCA of Metropolitan Chicago, as well as the Director of Operations for Y-USA. Prior to this, Marie worked at Deloitte in the consulting practice, and in the City of Chicago Mayor's Office.
Marie also served on the National Advisory Council on Innovation and Entrepreneurship (NACIE) for the U.S. Commerce Department. Marie was a co-chair for NACIE 2.0, and an active member of NACIE 3.0 through June 2017. Marie was named a 2019 Woman of Influence by the Chicago Business Journal. Marie is also a mentor for the University of Chicago's Harris School of Public Policy, a board member of Chicago Run, and a middle school cross country coach. She holds a bachelor's degree from the University of Illinois, where she was awarded the 2018 LAS Alumni Humanitarian Award, and a master's degree in public policy from the University of Chicago.
« Back to events
Upcoming events
Chicago Transit Authority
Monday, May 4, 2020
11:30 a.m. reception/12:00 p.m. luncheon
US House of Representatives, 2nd District
Monday, May 11, 2020
11:30 a.m. reception/12:00 p.m. luncheon
Events sell out quickly!
Don't miss an event. Keep up with the City Club of Chicago.
City Club of Chicago event tickets are non-refundable. Tickets are transferrable.