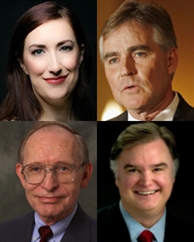 Illinois Attitudes: Discussion of the Latest Simon Poll
David Yepsen, John Jackson, Becky Carroll, and Pat Brady
Thursday, Oct 6, 2016
11:30 a.m. reception/12:00 p.m. luncheon
Location
Maggiano's Banquets
111 W. Grand Avenue
Chicago, IL 60654
Map and directions
Illinois Attitudes: Discussion of the Latest Simon Poll
Founded in 1997 by Paul Simon, a former two-term U.S. Senator from Illinois and one-time candidate for the Democratic Party nomination for President of the United States, the Paul Simon Public Policy Institute acts on significant and controversial issues impacting the region, the state, the nation, and the world.
The Institute is committed to developing and working to implement approaches that could bring concrete, positive results in tackling some of the most difficult challenges in the public policy arena. The Institute focuses its efforts on fostering ethical conduct in government, opportunity and fair treatment for people in America and throughout the world, and promoting responsible citizenship for all Americans--but particularly for young Americans.
The Institute executes its mission by conducting nationally known public opinion polls (The Simon Institute Poll™ and The Southern Illinois Poll™) to inform decision makers and citizens, and publishing analysis of public policy issues in an occasional paper (The Simon Review). The Institute also provides and supervises paid internships and other learning opportunities for university students, hosts lectures and conferences with noted leaders in public policy, journalism and other fields, and provides leadership and civic education opportunities for high school students.
Speakers
David Yepsen
David Yepsen became director of the Paul Simon Public Policy Institute at Southern Illinois University Carbondale on April 1, 2009. Previously, he had a 34-year career with the Des Moines Register serving as the paper's chief political writer, political editor and political columnist. He is a native of Jefferson, Iowa and is a 1972 graduate of the University of Iowa.
Yepsen has also appeared on a variety of national radio and television programs commenting on Iowa politics and the presidential caucus campaigns in the state. During his career, he helped cover nine presidential campaign cycles in Iowa. At SIU, he teaches a course in public affairs reporting for the journalism school.
During his newspaper career he covered a variety of beats including police, city hall, courthouse and the Iowa Statehouse. In 1977 he became a statehouse reporter for the Register and chief political reporter in 1983. In 1994 he was named political editor and in 2000 became the Register's full-time political columnist. He was also a regular panelist on Iowa Public Television's weekly "Iowa Press" news interview program for over 30 years.
In 1999, veteran political reporter Jack Germond wrote Mr Yepsen "is one of the premier political writers in the country." In his book about the 1988 presidential race, the late Illinois Senator Paul Simon praised Yepsen's objectivity.
"Every four years the chief political reporter for the Des Moines Register becomes the most important reporter in the nation," he said. "It is a position that could cause vanity and abuse. To his credit, David Yepsen handled this position with sensitivity and balance. And he worked hard."
Yepsen recently announced his retirement from the Paul Simon Public Policy Institute at Southern Illinois University Carbondale effective October 31, 2016.
John Jackson
John S. Jackson has had almost a five-decade career as a teacher, researcher and administrator at SIU Carbondale. Jackson became Southern Illinois University Carbondale's 17th chancellor on June 5, 1999. A political scientist by training, he enjoyed a myriad of connections to faculty and staff and students. He served as vice chancellor for academic affairs and provost from 1996 to 1999.
In recent years, he has showcased the campus, the State of Illinois and the nation to international students and professionals who have come to the United States as part the Study of the U.S. Institute for Student Leaders, a summer institute on American government and politics for international scholars sponsored by the Branch for the Study of the United States, Office of Academic Exchange Programs, U.S. Department of State. He is well known across southern Illinois for his on-camera political commentary and his expertise in U.S. presidential elections.
In May 2015, he received the prestigious Lindell W. Sturgis Award for professional achievement for public service from the Southern Illinois University Board of Trustees. Jackson joined the Paul Simon Public Policy Institute in 2002 as a visiting professor. Jackson directs one of the Institute's internship programs and edits The Simon Review series, to which he is a frequent contributor. He also assists in the production of the Institute's polls and is a frequent contributor to local, state and national media coverage of government and politics.
Jackson is also the author of two recent books, "The Essential Paul Simon," published by SIU Press in 2012, which is an editing of Simon's works, and "The American Political Party System: Continuity and Change over 10 Presidential Elections," published by The Brookings Institute in fall 2014. That book examines how the nation's government became divided and polarized and the impact on the political system and presidents who are trying to get their respective agendas adopted.
Becky Carroll
Considered one of Chicago's top public affairs strategists, Becky is a two-decade veteran of high-profile political and public policy campaigns. She led public engagement and communications strategies to develop and promote bold, new initiatives on education, economic development, housing, pensions, and budget and finance issues. She served as a top adviser to public-sector executives at both Chicago's City Hall and the Illinois Office of the Governor lending her expertise to build stakeholder support for large scale public/private developments and partnerships in communities throughout Chicago.
Becky has also held top positions on local, state and national political campaigns, including National Director of Women for Obama on the 2008 Obama for President campaign and most recently as Chairman and CEO of Chicago Forward, a Super PAC that raised over $5 million to support the re-election of Mayor Rahm Emanuel as well as pragmatic Aldermen and aldermanic candidates during the 2015 Chicago municipal election.
She is the founder and president of C-Strategies LLC, a strategic communications and public affairs firm that employs results-driven tactics in building strategic plans, guiding public opinion, and managing through crisis by building roadmaps to help corporate, public sector and nonprofit clients achieve their goals.
Becky is a devout, third-generation Chicagoan who attended Chicago Public Schools and graduated from Loyola University Chicago. She has served on multiple boards that promote leadership roles for women in politics and women's health, family and workplace issues, including NARAL Pro-Choice America. She has also led multiple media campaign trainings for organizations such as Young Democrats of America. Becky serves as a Mentor at 1871 and with Loyola University Chicago's Inside Government organization, where she also serves on the board of its executive alumni committee. She was recognized by the Chicago Sun-Times as one of Chicago's 30 Under 30.
Pat Brady
Pat Brady is a government affairs consultant to Next Generation Public Affairs, a Midwest-based full service government affairs firm. Brady specializes in issue advocacy, messaging, media relations and government affairs. Brady recently stepped down as Chairman of the Illinois Republican Party and as a member of the Republican National Committee. He is a former federal fraud and corruption prosecutor, "big 4" consulting firm principal and national law firm partner.
Over the last several years, Pat has been a fixture on local and often national television as a surrogate for numerous political candidates, including two presidential candidates and as an advocate for the Republican Party. He has appeared on CNN, Fox, MSNBC, ABC, CBS, NBC, BBC, Canadian National Television, French 2 and virtually all the Chicago and Illinois area media outlets.
In 2010, under Pat's Chairmanship, Illinois Republicans had their best year in decades in both fundraising and electoral success. Among Republican successes that year, in a race of national focus, Congressman Mark Kirk won the U.S. Senate seat previously held by President Barack Obama. Brady served as a key surrogate of the campaign in numerous TV, Radio and print media interviews.
Critical to the electoral success in 2010 was that under Pat's leadership the Illinois Republican Party, for the first time in its history ran an integrated, technologically sophisticated, statewide get out the vote program which ranked as one of the nation's top "Victory" GOTV programs making over 4 million phone calls and door knocks.
As a member of the Republican National Committee, Pat played a key role in the election of two RNC Chairmen, served on the Finance and Budget Committees, and Chaired the Ethics Committee.
« Back to past events
Upcoming events
My Block, My Hood, My City
Founder & CEO
Wednesday, Jul 8, 2020
11:00 AM
Events sell out quickly!
Don't miss an event. Keep up with the City Club of Chicago.
City Club of Chicago event tickets are non-refundable. Tickets are transferrable.