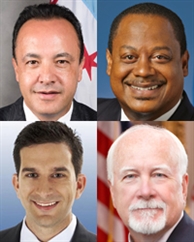 The 2017 City of Chicago Budget
Hon. George Cardenas, Hon. Pat O'Connor, Hon. Roderick Sawyer, and Hon. Scott Waguespack
Thursday, Oct 27, 2016
7:30 a.m. reception/8:00 a.m. breakfast
Location
Maggiano's Banquets
111 W. Grand Avenue
Chicago, IL 60654
Map and directions
Speakers
Hon. George Cardenas
George Cardenas is currently in his fourth term as Alderman of the 12th Ward, which consists of portions of Little Village, Brighton Park, and McKinley Park. Alderman Cardenas is the Chairman of the Health and Environmental Protection Committee, and his Committee memberships include Budget and Government Operations; Committees, Rules and Ethics; Education and Child Development; Finance; Aviation; Housing and Real Estate; and Zoning. In addition, Cardenas is the Chairman of the Latino Caucus.
As Alderman, Cardenas is committed to improving the quality of life for every resident of the ward. Cardenas' top priorities are improving the educational opportunities for our children, reducing crime, bringing real economic development and job opportunities into the ward, and providing the highest level of city services possible.
As a young child, Cardenas and his family came to Chicago in search of the American Dream. Working his way through school, Cardenas earned a bachelor's degree in accounting and a master's degree in political science from Northeastern Illinois University. Before joining government, Cardenas accumulated over a decade of experience working for Fortune 500 companies. This background gives him valuable insight into the needs of the community and a desire to be a voice for positive change for the area.
As an entrepreneur, Cardenas understands that we need government to be run with a business approach. From providing top quality constituent service to looking for ways to streamline government, Cardenas brings his business background into the decision making process of our City Council.
George is proud to raise his two young daughters in Little Village, where he and his family have lived for over 25 years.
Hon. Pat O'Connor
Pat O'Connor has been fighting for the people of Chicago for over 33 years. He has used his abilities as a lawyer, community leader, and alderman to advocate for change, improve our public school system, create new jobs and promote economic development, improve our health care system, keep our neighborhoods safe, and rebuild our infrastructure.
O'Connor is a lifelong resident of the northwest side of Chicago and has represented the 40th Ward in the City Council since 1983. In his years on the Council, O'Connor has distinguished himself as a leader and has earned a solid reputation for honesty and personal integrity.
For over 20 years, O'Connor served as the Chairman of the Committee on Education and Child Development. After chairing the Education Committee, he served as Chairman of Traffic Control and Safety, and is currently Chairman of the Committee on Workforce Development and Audit. The committee focuses its efforts on the city's labor force and regulations affecting labor, dealing with oversight of the numerous workforce issues which exist within the city. Each of the collective bargaining agreements governing the city's labor force—including police and fire—are approved through the Workforce Committee. O'Connor also serves as Vice-Chair for the Committee on Finance and is an active member of the Committees on Aviation; Budget and Government Operations; Economic, Capital and Technology Development; Education and Child Development; and Committees, Rules and Ethics.
Above all of his accomplishments and experience, O'Connor is first a neighbor in the community. He graduated from Mather High School and earned his bachelor's and law degrees from Loyola University of Chicago. He is the proud husband of Barbara and the father of five children: Hilary, Patrick, Claire, Courtney, and Moira. He is also the grandfather of six. O'Connor resides in the Budlong Woods neighborhood and is an active member of St. Hilary's Catholic Church.
Hon. Roderick Sawyer
In 2011, Roderick T. Sawyer was sworn in as Alderman of the 6th Ward, representing the Chatham, Chesterfield, Englewood, Greater Grand Crossing, Park Manor, and Auburn-Gresham neighborhoods. Alderman Sawyer prides himself on being independent and working for what is in the best interest of his community.
Re-elected in 2015, Alderman Sawyer presides as Chairman of the City Council Black Caucus and serves as the Vice Chairman of the Special Events, Cultural Affairs and Recreation Committee. Additionally, he is an active member of the City Council Committees on Budget and Government Operations; Committees, Rules and Ethics; Education and Child Development; Finance; Human Relations; License and Consumer Protection; and Pedestrian and Traffic Safety.
Since 2012, Sawyer has also served as the Democratic Committeeman of the 6th Ward, which is part of the Cook County Democratic Party.
Presently, Sawyer is on the Board of Directors of the South Shore Drill Team, eta Creative Arts Foundation, and Meyering Park Advisory Council. Sawyer also serves on the Board of Trustees at St. Mark A.M.E. Zion Church, and since his election in 2001, he has served on McDade Classical School's Local School Council as a member and former Chairman. Every year he co-chairs a fundraiser, which raises monies for a scholarship fund that provides financial assistance for disadvantaged African-Americans who attend his high school alma mater.
Sawyer was born and raised in Chicago's 6th Ward and has called it home his entire life. He is the youngest of three children born to Celeste C. Taylor and the Honorable Eugene Sawyer, the late Mayor of Chicago and former 6th Ward Alderman.
In his spare time, Sawyer enjoys deejaying as an amateur music mixologist, and playing basketball, softball, and dominoes. He is married to Cheryll and they have two children, Sydni Celeste and Roderick T. Jr.
Hon. Scott Waguespack
Scott Waguespack is the alderman of Chicago's 32nd Ward, which includes parts of the Bucktown, Logan Square and Wicker Park neighborhoods. Since his election as alderman in 2007, Ald. Waguespack has been a leading independent voice in the City Council, often challenging both the Daley and Emanuel administrations on issues of transparency, finances, public safety and public education. Since 2015, Ald. Waguespack has served as chair of the 11-member Progressive Reform Caucus.
In 2008, Ald. Waguespack was elected as the 32nd Ward's Democratic Committeeman. In that role, he has worked to register, educate and mobilize voters to elect more progressive leaders in the Northwest Side corridor.
Ald. Waguespack graduated from Colorado State University and Chicago-Kent College of Law. After college, he served in the U.S. Peace Corps in Kenya, where he worked with UNICEF and various women's groups to build health clinics and water supplies, and provided training in primary health. He remains active with the Chicago Area Returned Peace Corps Association.
Ald. Waguespack has worked with the U.S. State Department, the American Bar Association, and various governments in the Balkans working to assist the War Crimes Tribunal in the former Yugoslavia, establishing a rule of law, and working on economic development. He served as an advisor to the President of Kosovo and the interim government after the end of the Kosovo War.
Ald. Waguespack sits on the City Council Committees on Finance; Budget and Government Operations; Committees, Rules, and Ethics; Education and Child Development; License and Consumer Protection; Human Relations; and Special Events.
He lives in Bucktown and his wife, Jade, and two young sons, Marc and Brandt.
« Back to past events
Upcoming events
Moderated by H.G. Chissell
Erin Aleman, Rep. Eva-Dina Delgado, Jacky Grimshaw, Leanne Redden
Wednesday, Dec 7, 2022
Doors Open at 11:30 am / Event Begins at 12:00 pm
featuring Dr. Allison Arwady, Dr. Colleen Cicchetti and Senator Mike Simmons
Dr. Vivek Murthy joins Chicago youth, clinicians, and local leaders to dive into the state of youth mental health, innovative approaches to supporting wellness and the importance of eliminating stigma.
Thursday, Dec 8, 2022
Doors Open at 11:30 am / Event Begins at 12:00 pm
City Club of Chicago event tickets are non-refundable. Tickets are transferrable.
Our venues are wheelchair accessible. To request any other accessibility, please contact Amanda Agosti at aagosti@cityclub-chicago.org