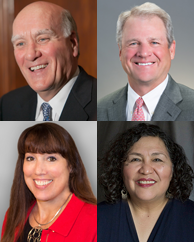 Advance Illinois: The State We're In 2016
A Report on Public Education in Illinois
William Daley, John Edwardson, Ginger Ostro, and Sylvia Puente
Wednesday, Nov 30, 2016
11:30 a.m. reception/12:00 p.m. luncheon
Location
Maggiano's Banquets
111 W. Grand Avenue
Chicago, IL 60654
Map and directions
Speakers
William Daley
William Daley is a Managing Partner and Head of US Operations for Argentière Capital. Prior to joining Argentière, Daley served as President Obama's Chief of Staff from January 2011 until January 2012. As Chief of Staff, he was involved in all aspects and issues faced by the President and the administration, both domestic and foreign. Daley also served in the Clinton administration, acting as US Secretary of Commerce from 1997 to 2000. In that role, he coordinated the effort for permanent Normal Trade Relations with China. In 2000, he stepped down from that position to chair Vice President Al Gore's presidential campaign.
In between White House administrations, Daley served as President of SBC Communications (2001-2004) and as Vice Chairman of JPMorgan Chase, Inc. and Chairman of the Midwest Region of the US (2004-2011). At JPMorgan Chase, he also served on the firm's Operating Committee and was Head of its Office of Corporate Responsibility.
Prior to his career in public service, Daley was a partner at the law firm of Mayer, Brown & Platt; President and Chief Operating Officer of Amalgamated Bank of Chicago; and a lawyer at the firm of Daley and George. Daley has served on the corporate Boards of Directors of Abbott Laboratories, The Boeing Company, Boston Properties, Inc., EDS, and Merck & Co.
Currently, Daley serves on the Boards of Directors of Advance Illinois, Center for Strategic and International Studies, Chicago Community Trust, Chicago Council on Global Affairs, Innovation Foundation, Inc., and Third Way. He also serves on the MD Anderson Cancer Center Board of Visitors. Daley earned an LLB from John Marshall Law School and a BA from Loyola University in Chicago.
John Edwardson
John Edwardson is the retired Chairman and Chief Executive Officer of CDW, a leading provider of technology solutions to business, government, education, and healthcare organizations. Edwardson joined CDW in January 2001 as President and CEO and became Chairman and CEO in May 2001. He retired as CEO on September 30, 2011 and as Chairman of the Board on December 31, 2012. During his tenure at CDW, the company's revenues grew from $3.8 billion to over $10 billion.
Prior to joining CDW, Edwardson served as Chairman and Chief Executive of Burns International Services Corporation—then the largest physical security firm in the country—from March 1999 through the sale of the company in October 2000. Before that, he served as President of UAL Corporation and United Airlines from 1994 to 1998 and as President and Chief Operating Officer from 1995 to 1998.
Since 2008 Edwardson has served as Chairman of Advance Illinois, an organization composed of philanthropic, education, political, business, and community leaders who are dedicated to improving Illinois' persistently below average academic performance. In addition to this service, Edwardson currently sits on the Board of Directors of FedEx Corporation, Rockwell Collins, Inc., and Chubb Insurance. Edwardson is a Trustee of the University of Chicago, where he is a member of the Executive Committee, and he is on the Advisory Council for the University's Booth School of Business. He is also a Life Trustee of both the Ravinia Festival and the Chicago Symphony Orchestra. Edwardson earned a bachelor's degree in industrial engineering from Purdue University and an MBA from the Booth School of Business.
Ginger Ostro
Ginger Ostro is the Executive Director of Advance Illinois, an independent, objective voice for a healthy public education system that prepares all students for college, career, and democratic citizenship. Ostro joined Advance Illinois in January 2016, after serving as Chief Financial Officer of Chicago Public Schools. At CPS, she helped usher in a more equitable, student-based school funding model, while overseeing financial operations of the third largest district in the country and a nearly $6 billion annual budget.
Prior to joining CPS, Ostro served as Director of the Governor's Office of Management and Budget and later as Deputy Executive Director of the Illinois Student Assistance Commission, where she helped strengthen the Commission's role in helping low-income students access and complete college. Before joining the state government, Ostro worked at Chicago Metropolis 2020, focusing on policies to help the formerly incarcerated, reducing youth involvement in the juvenile justice system, and creating a system to identify and intervene with young children who had been exposed to violence. Before that, Ostro worked at Governors State University, where she helped develop a curriculum to prepare students for work in human services. At Governors State, she also facilitated the creation of an innovative on-campus Family Development Center to serve children from birth through 4th grade, and to support their families.
Ostro earned a Bachelor's degree in Politics, Economics, Rhetoric and Law from The University of Chicago and a Master's degree in Public Policy, Health and Human Services from the John F. Kennedy School of Government at Harvard University.
Sylvia Puente
Sylvia Puente is the Executive Director of the Latino Policy Forum, the only public policy and advocacy organization in the Chicago metropolitan area working to improve educational outcomes for children, make housing accessible and affordable, promote just immigration reform, and build the influence and leadership of the Latino community. Through the Latino Policy Forum, she works with more than 100 organizational leaders in the Chicago metropolitan region. She is also the convener of the Illinois Latino Agenda, where her collaboration and consensus-building skills are highly valued. She has been recognized as one of the "100 Most Influential Hispanics in the US" by Hispanic Business magazine.
Puente was introduced to her life's work as an advocate, policy analyst, and activist for Latino issues at the age of thirteen when she joined her mother on picket lines in support of the United Farm Workers. From 2001-2008, she served as the Director of the Center for Metropolitan Chicago Initiatives for the University of Notre Dame's Institute for Latino Studies. Before that, she was Director of New Community Initiatives for The Resurrection Project and she worked for the Latino Institute—a prominent think thank on Latino issues during the 90's—as the Director of Research, Public Policy, and Advocacy. Puente also founded the Latino Leadership Council of the Chicago Foundation for Women, which has raised thousands of dollars to support organizations that provide services to women and girls.
In 2009, Governor Quinn appointed Puente to serve as Chair of the Education Funding Advisory Board. Since its inception in 2008, Puente has served as a Board Director of Advance Illinois, a public policy agency working to improve education in the state.
Puente began her master's degree studies at the John F. Kennedy School of Government at Harvard University and received her MA from the Harris School of Public Policy at the University of Chicago. She holds a BA in Economics from the University of Illinois.
« Back to past events
Upcoming events
Join us at a cocktail reception featuring Chicago's newly-elected alderpeople.  Each alderperson will take a few moments to share what they love about Chicago, their ward, and where they see opportunities for success.
Thursday, Jun 8, 2023
Doors Open at 3:30 pm / Event Begins at 3:45pm
U.S. House of Representatives, IL-5
Tuesday, Jun 27, 2023
Doors Open at 11:30 am / Event Begins at 12:00 pm
City Club of Chicago event tickets are non-refundable. Tickets are transferrable.
Our venues are wheelchair accessible. To request any other accessibility, please contact Amanda Agosti at aagosti@cityclub-chicago.org