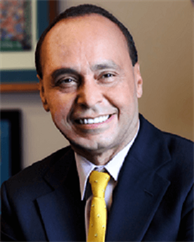 Hon. Luis Gutierrez - Breakfast
United States Representative
State of Illinois, 4th District
Tuesday, Oct 31, 2017
7:30 a.m. reception/8:00 a.m. Breakfast
Location
Maggiano's Banquets
111 W. Grand Avenue
Chicago, IL 60654
Map and directions
Speaker
Hon. Luis Gutierrez
Just elected to his thirteenth term, Congressman Luis V. Gutiérrez is the senior member of the Illinois delegation in the US House of Representatives. He is an experienced legislator and energetic spokesman on behalf of his constituents in Illinois' Fourth District, in the heart of Chicago.
He played an instrumental role in advocating for executive action by President Obama to provide deportation relief to certain long-term undocumented immigrants and their families. The Deferred Action for Childhood Arrivals program that protects some immigrants brought to the United States as children from deportation—along with a series of executive actions announced in 2014—are partly the result of Gutiérrez's consistent and persistent advocacy in Washington. Beyond advocating for these initiatives, the Congressman has worked hard in Chicago and around the country to help immigrants apply for these deportation protections that keep families together.
With regard to Committee assignments, Gutiérrez took a leave of absence from the House Financial Services Committee—where he was the third ranking Democrat—to take a less senior position on the Judiciary Committee. He did this so that he could work directly on two signature issues that have defined his career: gun violence prevention and comprehensive immigration reform. In addition, he has also served on the Veterans Affairs Committee and the Select Committee on Intelligence.
Gutiérrez was born and raised in Chicago to parents who had migrated from Puerto Rico in the early 1950s. Both a father and grandfather, Gutiérrez lives in Chicago with his wife, Soraida. Before being elected to Congress in 1992, Gutiérrez previously served as an Alderman in the City of Chicago for the 26th Ward, and has been a teacher, a social worker, and a cab driver, among other diverse experiences.
« Back to past events
Upcoming events
City of Chicago Inspector General Joseph Ferguson, Chicago Board of Education Inspector General Nicholas Schuler, Cook County Inspector General Patrick Blanchard
Wednesday, Jul 18, 2018
11:30 a.m. reception/12:00 p.m. luncheon
moderated by George Papajohn
Gary Marx, David Jackson, Jennifer Smith Richards, Juan Perez, Jr.
Tuesday, Jul 24, 2018
11:30 a.m. reception/12:00 p.m.
Events sell out quickly!
Don't miss an event. Keep up with the City Club of Chicago.