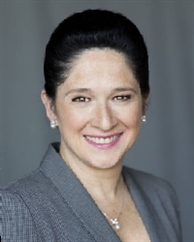 Hon. Susana Mendoza
Comptroller
State of Illinois
Monday, Mar 20, 2017
11:30 a.m. reception/12:00 p.m. luncheon
Location

Maggiano's Banquets, 111 W. Grand Avenue
Chicago, IL 60654
Map and directions
Speaker
Hon. Susana Mendoza
Susana A. Mendoza was sworn in as State Comptroller on Dec. 5, 2016. The first Hispanic to run statewide as a Democrat, Mendoza won a special election to serve the final two years of the term won by her friend, the late Judy Baar Topinka.
Running at a difficult time for Illinois, when residents have gone without a budget for over two years, Mendoza was elected on a platform of prioritizing payments to the state's most vulnerable residents. On her first day in office, Mendoza moved state employee bonuses to the back of the line, speeding payments to social service agencies that had been waiting six months or more to have their bills paid by the state.
Charged with maintaining the state's central fiscal accounts and ordering payments into and out of the funds, Mendoza has pledged to serve as an "independent, truth-telling fiscal watchdog who prioritizes both the fiscal and moral health of the state." The Comptroller's office also maintains a website that gives state residents detailed information about the state's fiscal health, employee salaries, outstanding bills, and vendor contracts and contributions. She aims to make that website more user-friendly and easier to navigate.
Previously, Mendoza served as the City Clerk of Chicago. The first woman to serve as City Clerk, Mendoza was elected in 2011, taking over of a $10 million-a-year office with more than 100 employees. Working closely with animal rights groups, Mendoza spearheaded and passed the Companion Animal and Consumer Protection Ordinance, which bans Chicago pet stores from selling dogs, cats, or rabbits unless those animals are sourced from humane shelters or animal rescue organizations. As City Clerk, she also successfully transitioned 1.3 million customers for Chicago City Vehicle Stickers away from an inefficient and archaic seasonal sales program to a streamlined year-round sales program. Under her leadership, the revenues the Clerk's Office earned for the city increased to about $150 million annually.
Before becoming City Clerk, Mendoza served six terms in the Illinois House of Representatives. First elected in 2000 as the youngest member of the Illinois General Assembly, Mendoza proudly represented the Southwest Side neighborhood where she was born.
During her time in the Statehouse, Mendoza was recognized for her leadership and legislation on social services, education, law enforcement, job creation, and animal welfare. Mendoza was a leading sponsor of HR 1650 which created the panel to impeach former Governor Blagojevich and she served as an active alternate member of the impeachment committee.
Mendoza was born in Chicago's Little Village neighborhood to Mexican immigrants, Joaquin and Susana Mendoza. As a child, she was driven from her neighborhood by gang violence and moved to the southwest suburbs. She won a soccer and academic scholarship to Truman State University, where she earned All‐Midwest honors in soccer and graduated in 1994 with a BA in Business Administration. Upon graduation, Mendoza moved back to Little Village and worked in advertising/public relations, the hospitality industry, and at the City of Chicago's Department of Planning and Development.
Today, Mendoza lives in Chicago's Portage Park neighborhood with her husband, David Szostak, their 4-year-old son, David Quinten Szostak, and her 81 year old mother.
« Back to past events
Upcoming events
Chicago Police Department
Monday, Sep 27, 2021
Doors Open at 11:30 am / Event Begins at 12:00 pm
Please note City Club's COVID-19 in-person event protocols
- All guests must provide proof of full vaccination at check-in
-All guests must remain masked throughout the program
-In lieu of serving lunch, Maggiano's will provide a to-go bag with a complete meal following the conclusion of the event
-Capacity will be reduced to allow more spaces between seats
City Club of Chicago event tickets are non-refundable.
Tickets are transferrable.