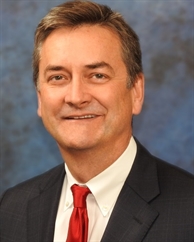 Dr. John Jay Shannon
CEO
Cook County Health & Hospitals System
Monday, May 8, 2017
11:30 a.m. reception/12:00 p.m. luncheon
Location

Maggiano's Banquets, 111 W. Grand Avenue
Chicago, IL 60654
Map and directions
Speaker
Dr. John Jay Shannon
John Jay Shannon, MD, is the Chief Executive Officer of the Cook County Health & Hospitals System (CCHHS). He was appointed CEO in June 2014 after serving as the system's Chief of Clinical Integration.
Under Dr. Shannon's leadership, CCHHS is continuing on a transformative journey, developing an innovative and integrative approach to the fulfillment of the system's mission by aligning its role as a provider of care, both in traditional and correctional settings, a public health authority, and a health plan. In addition to fulfilling the health system's mission to protect the health of all Cook County residents, Dr. Shannon is steadfast in his commitment to ensure CCHHS is a good steward of taxpayer funds. While the system had traditionally operated in the red, for the first time in modern history CCHHS increased its net position by more than $20 million in fiscal year 2014.
A Chicagoland native, Dr. Shannon earned his bachelor's degree from Spring Hill College and his medical degree from Rush Medical College. He trained in Internal Medicine and was a Chief Resident at University of Texas Southwestern Affiliated Hospitals in Dallas, and later earned specialty training in Pulmonary and Critical Care Medicine at the University of Michigan Medical Center in Ann Arbor.
Dr. Shannon spent most of his professional career at John H. Stroger, Jr. Hospital of Cook County (formerly Cook County Hospital). He first joined the medical staff in 1990 and served in several roles, including director of the Adult Asthma clinic, where he led several quality improvement collaborations aimed at improving the delivery of care for asthma patients within the health system and across the city. He also served as an Associate Chair of the Department of Medicine and Chief of the Divisions of Pulmonary and Critical Care Medicine at Stroger.
Dr. Shannon served as Executive Vice President and Chief Medical Officer at Parkland Health & Hospital System in Dallas from 2007-2012. While there, he served for two years as a trustee of the Dallas-Fort Worth Hospital Council.
Dr. Shannon currently serves on the Board of Trustees of the Illinois Hospital Association, the Board of America's Essential Hospitals Institute, and is a Fellow of the Institute of Medicine of Chicago. For seven years, he served on the executive board of the American Lung Association of Metropolitan Chicago, now the Respiratory Health Association. He also served on the executive board of the Chicago Asthma Consortium.
Dr. Shannon and his wife reside in the western suburbs. They have three adult children.
« Back to past events
Upcoming events
Cook County Health
Chief Executive Officer
Wednesday, Feb 9, 2022
Doors Open at 12:30 pm / Event Begins at 1:00 pm
Chicago Department of Aviation
Wednesday, Feb 23, 2022
Doors Open at 12:30 pm / Event Begins at 1:00 pm
Please note City Club's COVID-19 in-person event protocols
- All guests must provide proof of full vaccination at check-in
-All guests must remain masked throughout the program
-In lieu of serving lunch, Maggiano's will provide a to-go bag with a complete meal following the conclusion of the event
-Capacity will be reduced to allow more spaces between seats
City Club of Chicago event tickets are non-refundable.
Tickets are transferrable.