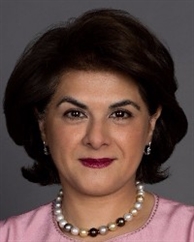 Goli Sheikholeslami
CEO
Chicago Public Media
Thursday, May 25, 2017
11:30 a.m. reception/12:00 p.m. luncheon
Location

Maggiano's Banquets, 111 W. Grand Avenue
Chicago, IL 60654
Map and directions
Speaker
Goli Sheikholeslami
Goli Sheikholeslami is a highly regarded executive who has successfully built and led operations at several prominent media companies over the past 20 years. Her experience is a rare combination of traditional news media and digital innovation at both emerging and established organizations.
As CEO of Chicago Public Media, Sheikholeslami is responsible for leading CPM's vision and strategy for the future as it transitions from a broadcast radio service to a digital on demand news and entertainment hub. Under Goli's direction, WBEZ Chicago has experienced record-setting audience and membership growth and is firmly committed to expanding its capacity to create and distribute high quality, in-depth journalism, innovative podcasts and original programming for all of its platforms.
During her time as a senior executive for The Washington Post, Sheikholeslami helped build washingtonpost.com and led the successful integration of digital operations with the company's legacy newspaper. Her strategic vision and commitment to maintaining The Washington Post's high journalistic standards were integral to the success of the newspaper's historic digital expansion.
Sheikholeslami has also served in key leadership roles with major media organizations Conde Nast and Time Warner. Prior to joining Chicago Public Media, she served as the chief product officer for Everyday Health, a leading health information platform for consumers and medical professionals.
In 2016, she was elected to the Board of Directors of National Public Radio (NPR). Since 2012, she has served as a Director of DHI Group, Inc., a leading provider of data, insights and employment connections through specialized services for professional communities including technology and security clearance, financial services, energy, healthcare and hospitality.
Sheikholeslami holds an MBA from the Darden School of Business at the University of Virginia and a B.S. in International Economics from the Georgetown University Edmund A. Walsh School of Foreign Service.
« Back to past events
Upcoming events
Join us at a cocktail reception featuring Chicago's newly-elected alderpeople.  Each alderperson will take a few moments to share what they love about Chicago, their ward, and where they see opportunities for success.
Thursday, Jun 8, 2023
Doors Open at 3:30 pm / Event Begins at 3:45pm
U.S. House of Representatives, IL-5
Tuesday, Jun 27, 2023
Doors Open at 11:30 am / Event Begins at 12:00 pm
City Club of Chicago event tickets are non-refundable. Tickets are transferrable.
Our venues are wheelchair accessible. To request any other accessibility, please contact Amanda Agosti at aagosti@cityclub-chicago.org