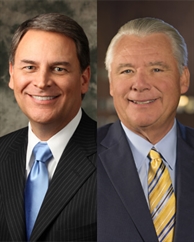 US Manufacturing: A Conversation with Jay Timmons and Greg Baise
Tuesday, Oct 10, 2017
11:30 a.m. reception/12:00 p.m. luncheon
Location
Maggiano's Banquets
111 W. Grand Avenue
Chicago, IL 60654
Map and directions
Speakers
Jay Timmons
Jay Timmons is president and CEO of the National Association of Manufacturers (NAM), the largest manufacturing association in the United States representing small and large manufacturers in every industrial sector. He became NAM president in January 2011.
Timmons is a leading advocate for the nearly 12 million men and women who make things in America, educating the public and policymakers on issues that affect this critical sector of the U.S. economy. He promotes a broad-based agenda to strengthen U.S. competitiveness and bring about a manufacturing renaissance.
Prior to his appointment as NAM president, Timmons was executive vice president beginning in 2008. In 2005, he joined the NAM as senior vice president of policy and government relations. His previous experience includes serving as chief of staff to Congressman, Governor and Senator George Allen (R-VA) from 1991 to 2002, and a term as executive director of the National Republican Senatorial Committee during the 2004 election cycle. When he first came to Washington in the 1980s, he served as press secretary to Congressman Jim Martin (R-NC) and later Alex McMillan (R-NC).
He is driven by the principles instilled in him by his roots in the manufacturing town of Chillicothe, Ohio, where his grandfather worked at a Mead plant for nearly four decades and where he witnessed manufacturing's ability to raise the quality of life for families and communities. Timmons' knowledge and expertise is valued and respected by influential policymakers on both sides of the aisle in Congress and the Administration. He knows how to navigate the complexities of the policymaking process in the nation's capital and brings with him an exceptional understanding of manufacturing issues.
A passionate advocate for the adoption of companion animals, Timmons served for seven years as the Chairman of the Washington Humane Society Board of Directors, and led the successful effort to merge WHS and the Washington Animal Rescue League to create the Humane Rescue Alliance. He is also the Chairman of the Manufacturing Institute, and a member of the board of the U.S Chamber Institute for Legal Reform. Timmons attended The Ohio State University and resides in McLean, Virginia with his husband, Rick, and their three children.
Greg Baise
Gregory W. Baise is the President and CEO of the Illinois Manufacturers' Association (IMA), a statewide advocacy organization representing more than 4,000 manufacturing companies. Since assuming leadership in 1991, the IMA has earned many legislative victories that have resulted in benefits for Illinois businesses and families.
Some of the IMA's most significant achievements include the repeal of the Illinois Structural Work Act, the institution of the Manufacturers' Purchase Credit, and the passage of major reforms to Workers' Compensation and Unemployment insurance. During Baise's tenure, the IMA has also achieved the enactment of more business-friendly environmental legislation, the passage of landmark hydraulic fracturing legislation, and major reforms to tort law and education policies
In 2004, Baise established Xpress Professional Services (XPS), a political fulfillment firm which delivers direct mail, radio, and television production and placement for candidates. Today, XPS also operates a polling service, We Ask America, which has earned a national following for its innovation and accuracy.
Also in 2004, the IMA became the lead co-founder of the Illinois Coalition for Jobs, Growth & Prosperity, a 501(c)(4) dedicated to educating Illinois taxpayers about the benefits of a pro-jobs, pro-employer statewide economic agenda. Through numerous activities, the coalition supports progressive initiatives aimed at making Illinois a destination economy for business and industry.
In 2008, Baise and Ronald Gidwitz—former owner of Helene Curtis Industries—formed the Economic Freedom Alliance (EFA), a 527 political organization designed to fight the passage of the Employee Free Choice Act (better known as Card Check). Baise coordinated a grass-roots public information campaign that included television and radio ads, billboards, web sites, social media and earned media in Illinois, Wisconsin, Minnesota, Missouri, Michigan, Indiana, and Ohio. The EFA earned praise from employers and pro-business organizations throughout the nation for its cutting-edge approach to modern political discourse. Card Check remains dormant in the halls of Congress, and EFA remains active and watchful of initiatives that would harm job growth in this nation.
Prior to the IMA, Baise served in various capacities for Gov. Jim Thompson, including as Secretary of the Illinois Department of Transportation and as head of his gubernatorial re-election campaign in 1986. During his political career, Baise also served as the Illinois Campaign Manager for Presidents Reagan and Bush (41), and in 1990 he was the Republican candidate for Illinois State Treasurer.
Baise is a 1974 graduate of Illinois College and has served on the Board of the National Association of Manufacturers.
« Back to past events
Upcoming events
President & CEO
Illinois Restaurant Association
Wednesday, Aug 12, 2020
Remarks begin at 11:00 AM
Morgan Elise Johnson, Gregory Pratt & Jen Sabella
Monday, Aug 17, 2020
Remarks begin at 11:00 AM
Events sell out quickly!
Don't miss an event. Keep up with the City Club of Chicago.
City Club of Chicago event tickets are non-refundable. Tickets are transferrable.