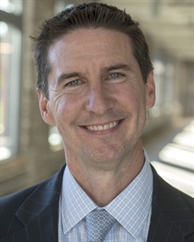 John Flavin
Polsky Center for Entrepreneurship and Innovation
Wednesday, Jul 26, 2017
11:30 a.m. reception/12:00 p.m. luncheon
Location
Maggiano's Banquets
111 W. Grand Avenue
Chicago, IL 60654
Map and directions
Speaker
John Flavin
John Flavin leads the Polsky Center for Entrepreneurship and Innovation, which drives the creation of new businesses at the University of Chicago and on Chicago's South Side. In this role, he helped the University of Chicago Medicine attract a $100 million gift from the Duchossois family to further research into how the bacteria in our bodies influence wellness and disease, and then commercialize the new treatments that emerge from laboratory discoveries.
Prior to leading the Polsky Center, Flavin launched the Polsky Exchange, a 34,000-square-foot incubator, fabrication lab, and co-working space for university and community entrepreneurs. The Exchange, located on 53rd Street in Hyde Park, now has more than 3,500 members.
Flavin helped launch and scale Chicago Innovation Mentors, a consortium of Illinois universities and national labs supporting faculty-led startups, and co-founded MATTER, Chicago's health-tech startup hub. He also has co-founded and built several biotech companies, raised more than $250 million in private and public capital, and led two successful NASDAQ IPOs.
Flavin holds a BS from Marquette University and a MBA from Lewis University. He is a board member at the Illinois Science and Technology Coalition. He serves on Governor Bruce Rauner's Illinois Innovation Council, Mayor Rahm Emanuel's ChicagoNEXT technology council, and the City of Chicago's Small Business Advisory Committee.
« Back to past events
Upcoming events
Dorval Carter & Rebekah Scheinfeld
Monday, Aug 14, 2017
11:30 a.m. reception/12:00 p.m. luncheon
moderated by Amanda Vinicky
Featuring Hon. Jason Barickman, Hon. Will Davis, Hon. Andy Manar, and Hon. Bob Pritchard
Tuesday, Aug 15, 2017
11:30 a.m. reception/12:00 p.m. luncheon
Events sell out quickly!
Don't miss an event. Keep up with the City Club of Chicago.