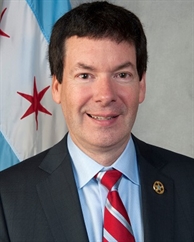 Hon. Brian Hopkins
Alderman
City of Chicago, 2nd Ward
Monday, Sep 11, 2017
11:30 a.m. reception/12:00 p.m. luncheon
Location
Maggiano's Banquets
111 W. Grand Avenue
Chicago, IL 60654
Map and directions
Speaker
Hon. Brian Hopkins
Alderman Brian Hopkins was elected to Chicago's City Council in May 2015.
After graduating as a Student Regent from the University of Illinois-Springfield (Sangamon State), Hopkins interned for the Illinois State Senate and was assigned to the Appropriations Committee. His role in the Senate helped prepare him for future positions including advising President Bill Clinton's transition team on ways to address the national issue of homelessness, as well as serving as the Downstate Campaign Manager for Dawn Clark-Netsch's campaign for Governor in 1994.
Hopkins went on to be the Director for the Illinois Coalition to End Homelessness, and led the successful campaign to pass the Illinois Homeless Voting Rights Act, the first of its kind in the nation. He also directed the Midwest tour of "Address Unknown" a nationally known theater company of homeless actors. Hopkins returned to the downtown area and moved to Streeterville in 1999 in what is now the new 2nd Ward. He took a job in the Cook County Commissioners office, where his experience led him to serve as Chief of Staff to the Finance Committee Chairman John P. Daley, under the tenure of President Toni Preckwinkle.
Along with his job at the County, Hopkins was twice voted President of the respected community group, the Streeterville Organization of Active Residents (SOAR). He also served as Vice President and Treasurer. At the helm of SOAR, Hopkins solved complex issues from a community perspective and co-chaired the first-ever neighborhood music festival in SOAR's history, StreeterFest.
Hopkins served on the Lakeshore Planning Committee, a group of civil leaders advocating a bold plan to add more green space and public parkland to Chicago's Lakefront. He fought to protect the community from health risks associated with environmental contamination at former industrial sites. He advocated for open space and parkland, and served on the committee to design the proposed DuSable Park, planned for a site near Navy Pier.
In conjunction with fighting to preserve open green space, Hopkins took an active role in transportation issues, serving on the Audit Committee for the Chicagoland Bicycle Federation (now the Active Transportation Alliance), and previously served on the Board of Working Bikes; an organization that recycles used and unwanted bikes.
A life-long Chicagoan, Hopkins lives in the Streeterville area with his wife, Colleen, and their son, Ryan. They can be found enjoying numerous dining, cultural and entertainment options in the vibrant neighborhoods of the 2nd Ward, or cheering on their beloved Blackhawks as die-hard hockey fans.
« Back to past events
Upcoming events
Chief Financial Officer
City of Chicago
Tuesday, Nov 2, 2021
Doors Open at 12:30 pm / Event Begins at 1:00 pm
Please note City Club's COVID-19 in-person event protocols
- All guests must provide proof of full vaccination at check-in
-All guests must remain masked throughout the program
-In lieu of serving lunch, Maggiano's will provide a to-go bag with a complete meal following the conclusion of the event
-Capacity will be reduced to allow more spaces between seats
City Club of Chicago event tickets are non-refundable.
Tickets are transferrable.