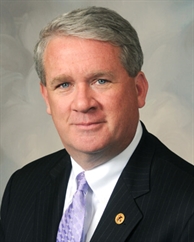 Hon. Jim Durkin
Republican House Leader
State of Illinois
Tuesday, Sep 19, 2017
11:30 am reception/12:00 pm luncheon
Location
Maggiano's Banquets
111 W. Grand Avenue
Chicago, IL 60654
Map and directions
Speaker
Hon. Jim Durkin
Jim was officially inaugurated to his third term as House Republican Leader on January 11, 2017 for the 100th General Assembly. During the 99th General Assembly, Jim sponsored the Illinois firearm trafficking law to keep illegally acquired guns out of the hands of gang members. He also successfully negotiated property tax freeze legislation and legislation to combat Illinois' heroin crisis.
Jim Durkin has spent his entire career working for the citizens of Illinois with a focus on protecting and strengthening families and communities. Following his graduation from law school, Jim served as an Assistant Illinois Attorney General. Jim continued his public service as an assistant Cook County state's attorney, serving in the felony trial and narcotics bureaus.
In January 1995, Jim became an Illinois State Representative in the 44th district. In 2002, Jim was the Republican nominee for United States Senate but was unsuccessful in his bid to defeat U.S. Senator Dick Durbin. In 2006, Jim was appointed to fill a vacancy in the 82nd House District and has successfully run for re-election. Jim served as the ranking Republican on the Illinois House of Representatives Special Investigation Committee for the impeachment of Governor Blagojevich in 2008, and in 2012 served as the House Manager for the removal of a sitting member of the Illinois House of Representatives.
In August of 2013, Jim was unanimously selected by his Republican peers to fill the vacancy of House Republican Leader. On October 22, 2013 Jim Durkin was officially inaugurated by the full House of Representatives as the new Illinois House Republican Leader.
In 2000 and 2008, Jim was State Chairman for U.S. Senator John McCain's presidential campaigns and served as Chairman for the Illinois Delegation at the 2008 Republican National Convention in Minneapolis. Jim currently serves on the John Marshall Law School Board of Trustee's, Misericordia Board of Advisors, Giant Steps of Illinois Board of Directors and JDRF Illinois Board of Directors.
Jim's dedication to the people of Illinois has earned him several honors. In 2016, the Builders Association named him Legislator of the Year, and the Illinois Farm Bureau awarded him a Friend of Agriculture. In 2015, the Illinois Association of Park Districts named him Outstanding Legislator of the Year. In 2014, the MS Society of Greater Illinois named him Legislator of the Year; the Illinois Crime Commission selected him for the Family Legacy Award; and he was named Public Official of the Year by the Illinois Association of Chiefs of Police. In 2001 Jim was awarded Citizen of the Year from Sarah's INN domestic violence Shelter in Oak Park. The Illinois Crime Commission also honored Jim as Legislator of the Year in 2002. The Operating Engineers Local 150 named Jim Statesman of Year in 1999. In 1997, the Illinois Community College Trustee Association named him Legislator of the Year.
Jim was born on January 28, 1961, into a large Chicago family of eight boys. Raised in the western suburb of Westchester, Jim and all seven of his brothers graduated from Fenwick High School. He attended Illinois State University and earned a degree in Criminal Justice, and completed his formal education by receiving his Juris Doctor from the John Marshall Law School. Jim currently resides in Western Springs, Illinois with his wife and family.
« Back to past events
Upcoming events
Paul Vallas will discuss his plan for creating a permanent, standing infrastructure for equitable, community-led economic development centered in historically disinvested parts of the city.
Tuesday, Jan 31, 2023
Doors Open at 11:30 am / Event Begins at 12:00 pm
moderated by Laura Washington
Roseanna Ander, Mecole Jordan-McBride, Mike Milstein, Andrew Papachristos
Wednesday, Feb 1, 2023
Doors Open at 11:30 am / Event Begins at 12:00 pm
City Club of Chicago event tickets are non-refundable. Tickets are transferrable.
Our venues are wheelchair accessible. To request any other accessibility, please contact Amanda Agosti at aagosti@cityclub-chicago.org