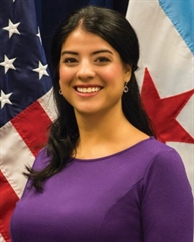 Anna Valencia
Clerk
City of Chicago
Wednesday, Oct 18, 2017
11:30 a.m. reception/12:00 p.m. luncheon
Save to calendar
$35.00 Member
$35.00 Member Guest (Join now!)
$50.00 Non-member (Join now!)
$750.00 Sponsor
Register now Only 13 seats left!
Location
Maggiano's Banquets
111 W. Grand Avenue
Chicago, IL 60654
Map and directions
Speaker
Anna Valencia
Anna Valencia was sworn-in as City Clerk of Chicago on January 25, 2017, overseeing one of the largest offices in the City and serving 1.2 million Chicagoans, generating more than $130 million annually.
As City Clerk, Valencia has focused on making government accessible to all Chicagoans. Under Valencia's leadership, the Office of the City Clerk has made it a priority to find new and innovative ways to bring services directly to residents, increase civic engagement, improve efficiencies and collaborate across government in the private and public sectors.
Valencia has also been charged with implementing the Municipal ID program which will roll out later this year. Available to all Chicago residents, this government-issued ID will combine access to government and city services into one card.
Prior to becoming Clerk, Valencia served as the second woman and first Latina to run Mayor Emanuel's Legislative Counsel and Government Affairs (LCGA. There she spearheaded the passage of police accountability reform, the modernization of the CTA's Red and Purple lines, the stabilization of pension funds and creation of the City's legal fund that assists immigrants and refugees threatened with deportation.
Valencia has also worked as an Illinois political professional in several positions including, serving as Campaign Manager for U.S. Senator Dick Durbin's re-election campaign, Senior Advisor for Mayor Rahm Emanuel's re-election campaign, Deputy Director of the Illinois Senate Democratic Victory Fund, a Communications Staffer for State Senate President John Cullerton, and Field Director for both Mike Quigley for Congress (IL-05) and Gary Peters for Congress (MI-09).
In 2017, Chicago Magazine listed Valencia as an Emerging Power Player highlighting her as a rising star in Chicago politics. Valencia has also been awarded Negocios Nows' 40 under 40 for her work as part of the next generation of Latina leaders.
Valencia earned her degree in International Studies from the University of Illinois Urbana-Champaign. She currently resides in the West Town neighborhood with her husband and dog.
« Back to events
Upcoming events
United States Representative
State of Illinois, 2nd District
Monday, Oct 23, 2017
7:30 a.m. reception/8:00 a.m. breakfast
moderated by Heather Anichini
featuring Kassie Davis, Dr. LeViis Haney, Dr. Janice K. Jackson, & Anne Wicks
Monday, Oct 23, 2017
11:30 a.m. reception/12:00 p.m. luncheon
Events sell out quickly!
Don't miss an event. Keep up with the City Club of Chicago.