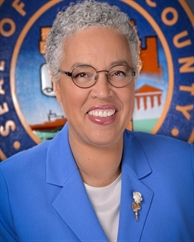 Hon. Toni Preckwinkle
President
Cook County Board
Wednesday, Sep 13, 2017
7:30 a.m. reception/8:00 a.m. breakfast
Location

Maggiano's Banquets, 111 W. Grand Avenue
Chicago, IL 60654
Map and directions
Speaker
Hon. Toni Preckwinkle
Cook County Board President Toni Preckwinkle has been a dedicated community leader for over two decades. She has worked with the Cook County Board of Commissioners, elected officials and County employees to implement major reform and reshape County government through fiscal responsibility, innovative leadership, transparency and accountability, and improved services
Since taking office in December 2010, President Preckwinkle has rebuilt the credibility of County government, solving for more than $1.8 billion in budget deficits and cutting $657 million in expenditures. She established the County's first performance management initiative to demand more accountability from County operations and employees.
President Preckwinkle has developed a broad policy agenda – focusing on critical public safety reform, working to strengthen the County's health care system, and increasing the capacity and capability of our economic development efforts.
President Preckwinkle is also president of the Forest Preserves of Cook County, a separate governmental body. The FPCC is one of the oldest and largest forest preserve districts in the country spanning 69,000 acres, which makes up 11% of the County footprint.
Before being elected Cook County Board President, Preckwinkle served 19 years as Alderman of the 4th Ward. During her tenure she worked to improve our local public schools and increase the amount of affordable housing sponsoring two Living Wage and Affordable Housing ordinances. Her independent and progressive leadership earned her the IVI-IPO Best Alderman Award six times as well as two Leon Despres Awards.
Prior to holding elected office, President Preckwinkle taught high school history for 10 years. She holds a Bachelor's degree and Master's degree from the University of Chicago. She is the mother of two and the grandmother of three.
« Back to past events
Upcoming events
Chief Financial Officer
City of Chicago
Tuesday, Nov 2, 2021
Doors Open at 12:30 pm / Event Begins at 1:00 pm
Please note City Club's COVID-19 in-person event protocols
- All guests must provide proof of full vaccination at check-in
-All guests must remain masked throughout the program
-In lieu of serving lunch, Maggiano's will provide a to-go bag with a complete meal following the conclusion of the event
-Capacity will be reduced to allow more spaces between seats
City Club of Chicago event tickets are non-refundable.
Tickets are transferrable.