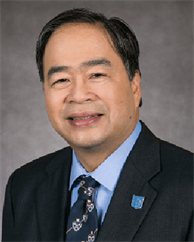 Dr. A. Gabriel Esteban
President
DePaul University
Tuesday, Nov 7, 2017
11:30 a.m. reception/12:00 p.m. luncheon
Location
Maggiano's Banquets
111 W. Grand Avenue
Chicago, IL 60654
Map and directions
Speaker
Dr. A. Gabriel Esteban
A. Gabriel Esteban, PhD, is president of DePaul University, the nation's largest Catholic university. He oversees a $599 million budget and 22,769 student on two major Chicago campuses at DePaul, which employs more than 3,550 full- and part-time faculty and staff. Among his first initiatives was to launch a strategic planning process to drive the university's activities to 2024.
A national leader in higher education, Dr. Esteban recently joined the board of the National Association of Independent Colleges and Universities. Since 2012, he has been a member of the Commission on Inclusion for the American Council of Education, and currently serves on the board of Asian Pacific Americans in Higher Education. He is a member of Chicago's most influential organizations, including the Economic Club, Chicago Club, Commercial Club and University Club.
Dr. Esteban has extensive experience in higher education and strategic planning. Prior to arrive at DePaul, he was president of Seton Hall University, a Catholic institution in South Orange, New Jersey.
He holds a doctorate in business administration from the Graduate School of Management of the University of California and a master's in Japanese business studies from Chaminade University. Dr. Esteban earned his MBA and bachelor's degree in mathematics from the University of the Philippines.
« Back to past events
Upcoming events
City of Chicago Inspector General Joseph Ferguson, Chicago Board of Education Inspector General Nicholas Schuler, Cook County Inspector General Patrick Blanchard
Wednesday, Jul 18, 2018
11:30 a.m. reception/12:00 p.m. luncheon
moderated by George Papajohn
Gary Marx, David Jackson, Jennifer Smith Richards, Juan Perez, Jr.
Tuesday, Jul 24, 2018
11:30 a.m. reception/12:00 p.m.
Events sell out quickly!
Don't miss an event. Keep up with the City Club of Chicago.