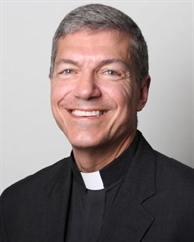 How the Jesuits are Reinventing Education (Again)
Fr. Stephen Katsouros, Arrupe College of Loyola University Chicago
Wednesday, Sep 20, 2017
7:30 a.m. reception / 8:00 a.m. breakfast
Location

Maggiano's Banquets, 111 W. Grand Avenue
Chicago, IL 60654
Map and directions
Speaker
Fr. Stephen Katsouros
A member of the United States Northeast Province of the Society of Jesus, Steve Katsouros, S.J., is the founding dean and executive director of Arrupe College at Loyola University Chicago. His book, Come To Believe: How The Jesuits Are Reinventing Education Again, was published by Orbis Press in June. An inspirational story, the book serves as both a reflection and a memoir that focuses on the first year of Arrupe College.
Prior to arriving in Chicago, Fr. Katsouros served as the director of the Institute for Catholic Educational Leadership and associate dean of the School of Education at the University of San Francisco. From 2002 until 2011 Fr. Katsouros was president of Loyola, a coed Jesuit high school in New York City. His doctorate, from Columbia University Teachers College, is in organizational leadership; his research interests are leadership; governance; and institutional performance. He has worked as a service program director, dean of students, and advancement director. Fr. Katsouros counseled runaways at Covenant House in Times Square, taught at the first Nativity-model school on Manhattan's Lower East Side, and co-founded another Nativity school in Harlem. He was ordained in 1998.
Currently, Fr. Katsouros is a trustee on the boards of Cristo Rey Jesuit High School, Chicago; Regis University, Denver; Saint Mary's College, South Bend, Indiana; and Sacred Heart Schools, Chicago. He gave the Cardinal Bernardin lecture at Georgetown University in March.
Arrupe is a two-year college at Loyola's Water Tower Campus that continues the Jesuit tradition of offering a rigorous liberal arts education to a diverse population, many of whom are the first in their family to pursue higher education. Arrupe's first class graduated in August. Fr. Katsouros frequently leads the invocations at City Club lunches and highly recommends the cannoli.
« Back to past events
Upcoming events
Chief Executive Officer
Chicago Public Schools
Tuesday, Dec 5, 2023
Doors Open at 11:30 am / Event Begins at 12:00 pm
moderated by Andrew Broy
Macke Raymond, Constance Jones and Greg White
Tuesday, Dec 12, 2023
Doors Open at 11:30 am / Event Begins at 12:00 pm
City Club of Chicago event tickets are non-refundable. Tickets are transferrable.
Our venues are wheelchair accessible. To request any other accessibility, please contact Amanda Agosti at aagosti@cityclub-chicago.org