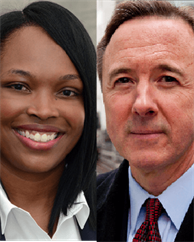 Forrest Claypool & Dr. Janice Jackson
Chief Executive Officer & Chief Education Officer
Chicago Public Schools
Thursday, Sep 7, 2017
7:30 a.m. reception/8:00 a.m. breakfast
Location

Maggiano's Banquets, 111 W. Grand Avenue
Chicago, IL 60654
Map and directions
Speakers
Forrest Claypool
Forrest Claypool was appointed CEO of Chicago Public Schools in July 2015.
Before joining CPS, Claypool served briefly as Mayor Rahm Emanuel's chief of staff and previously served two stints as Chief of Staff to Mayor Richard M. Daley.
Prior to joining Mayor Emanuel's leadership team at City Hall, Claypool served as President of the Chicago Transit Authority (CTA) from 2011-2015, where he closed a $308 million budget gap, negotiated a historic new labor agreement, and launched the most ambitious infrastructure modernization campaign in CTA history, all while improving bus and rail service throughout Chicago.
Claypool served as Superintendent of the Chicago Park District in the 1990s, eliminating serious budget deficits while rehabbing long neglected facilities and making unprecedented investments in neighborhood parks. He was twice elected to the Cook County Board of Commissioners, where he helped expand public-private partnerships for health care for low-income citizens and passed anti-corruption legislation.
Claypool is a graduate of Southern Illinois University and the University of Illinois College of Law, where he was editor-in-chief of the law review.
Dr. Janice Jackson
Dr. Janice K. Jackson, a recognized leader in the field of urban education, was named Chief Education Office (CEdO) for Chicago Public Schools in July 2015. A self-described progressive educator, she believes that high expectations and equally high levels of support must be provided to all children. In her role as Chief Education Office, Dr. Jackson leads the entire academic arm of CPS, which includes 660 schools in 13 networks, and is the third largest school district in the country.
Prior to her current role as Chief Education Officer, Dr. Jackson led Network 9 - one of the CPS' 13 school zones - which includes 26 schools and serves 14,000 students. In this capacity, she provided principals with supervision and guidance on strengthening students' academic foundations. Dr. Jackson began her CPS career as a Social Studies teacher at South Shore High School. After 5 years in the classroom, Dr. Jackson led the Al Raby School for Community and Environment, which became one of the District's most successful neighborhood high schools, with a graduation rate of over 80 percent and higher than expected college enrollment. After five years as Principal of Raby HS, Dr. Jackson was chosen to lead the new George Westinghouse College Prep High School. She opened this diverse west side high school with amazing speed, and its success has been recognized nationally, due in part to a thriving world language program and partnerships, like the Northwestern Medicine Scholars Program, which give promising students interested in the medical profession a chance to study with the outstanding physicians and researchers of Northwestern Memorial Hospital.
Dr. Jackson holds a BA in secondary education and a MA from Chicago State University and a MA in leadership and administration and a PhD in education policy studies and urban school leadership from the University of Illinois at Chicago.
« Back to past events
Upcoming events
Candidate for Mayor of Chicago
Monday, Mar 27, 2023
Doors Open at 11:15 am / Program Begins at 12:00 pm / Social Hour 1:00 - 2:00 pm - dessert, coffee and cash bar
Candidate for Mayor of Chicago
Tuesday, Mar 28, 2023
Doors Open at 11:15 am / Program Begins at 12:00 pm / Social Hour 1:00 - 2:00 pm - dessert, coffee and cash bar
City Club of Chicago event tickets are non-refundable. Tickets are transferrable.
Our venues are wheelchair accessible. To request any other accessibility, please contact Amanda Agosti at aagosti@cityclub-chicago.org