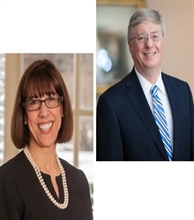 What employers want, we do: Liberal arts and workforce development in Illinois
Dr. Teresa Amott, President, Knox College & Dr. Patrick E. White, President, Millikin University
Wednesday, Feb 21, 2018
11:30 a.m. reception/12:00 p.m. luncheon
Location
Maggiano's Banquets
111 W. Grand Avenue
Chicago, IL 60654
Map and directions
Speakers
Patrick E. White
Dr. White was elected the 15th president of Millikin University in October 2013. He joined Millikin as the interim president in July 2013. Through his leadership, Millikin University has been revitalized and reimagined, and he has built a sold foundation for growth and success
Dr. White spearheaded Millikin's $85 million "Transform MU" capital campaign, which exceeded its monetary goal 14 months early and led to designs for new, transformative buildings on campus. The Workman Family Softball Field, one of the best fields in the nation, opened in March 2017. The $31 million University Commons, Millikin's new front door to campus, opened in August 2017 and houses the Staley Library, the Doug and Diane Oberhelman Center for Leadership Peformance, and additional innovative spaces for collaboration between faculty, staff, students, alumni and the community. Additionally, a Center for Theater and Dance will break ground in 2018 with plans to open in fall 2020. The facility will include a convertible theater in addition to studios, classrooms, and design labs for the School of Theatre and Dance.
Prior to arriving at Millikin, Dr. White served seven years as the 15th president of Wabash College in Crawfordsville, Ind. During his tenure at Wabash, Dr. White developed a student-focused strategic plan and guided the College through the financial turmoil of 2008-2009. He completed a comprehensive academic program review and unqualified Self-Study Report that led to reaccreditation. President White secured a number of grants to establish new programs, achieved success in the Challenge of Excellence capital campaign that exceeded its $60 million goal, and completed a $6 million Athletics Field Campaign.
Previously, Dr. White served as Vice President and Dean of Faculty at Saint Mary's College, Notre Dame, Ind., from 2002-2006. He was also formerly the Associate Dean of Faculty from 1988 to 2002, and served the all-women's college as Professor of English. He spearheaded a number of academic initiatives at Saint Mary's, including establishing the Center for Academic Innovation and the creation of grants that supported collaborative research between faculty and students and among the faculty members themselves. Dr. White was also one of the designers of Saint Mary's Center for Women's InterCultural Leadership, a Lilly Endowment-funded initiative.
Dr. White and his wife, Chris, a certified family nurse practitioner, have twin daughters, Katie and Molly, and a son, Paddy.
Teresa L. Amott
Prior to assuming her post at Knox College, President Amott spent six years as provost and dean of the faculty at Hobart and William Smith Colleges (HWS) in Geneva, New York. At HWS, she helped design and implement the strategic plan focused on expanding the academic program and faculty, increasing faculty diversity, and renovating the academic facilities. Before joining HWS, she was vice provost at Gettysburg College in Gettysburg, Pennsylvania, from 2000-2005. She has held academic appointments at Bucknell University, Harvard University, University of Massachusetts - Boston and Amherst, and Wellesley College.
President Amott holds a Ph.D. from Boston College and a B.A. from Smith College. Her research has focused on the labor market experiences of women and people of color. Among her publications are articles and essays addressing these topics, and she is co-author of Race, Gender, and Work: A Multicultural Economic History of Women in the United States (with Julie Matthaei).
Since joining the Knox community July 2011, President Amott has focused her efforts on the creation and implementation of a strategic plan, "Knox 2018," which calls for advancing the College's distinctive approach to liberal education for the 21st century, fostering engagement and participation across the many constituencies that make up the Knox community, renewing campus facilities, and ensuring the sustainability of the College for generations to come. Over the last five years, Knox has seen record applications for admission and record-breaking fundraising initiatives, the introduction of new academic programs, the renovation of Alumni Hall, a LEED-Gold certified educational center, and the opening of the Whitcomb Art Center in January 2017.
President Amott currently serves as chair of the Midwest Conference Board of Directors and is a member of the NCAA Division III Presidents Council, the Executive Committee of the Annapolis Group, and the board of directors of the National Association of Independent Colleges and Universities (NAICU).
« Back to past events
City Club of Chicago event tickets are non-refundable. Tickets are transferrable.