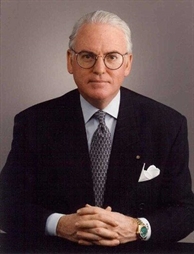 Hon. Edward M. Burke: 50 Years of Public Service
Wednesday, Mar 7, 2018
11:30 a.m. reception/12:00 p.m. luncheon
Location
Maggiano's Banquets
111 W. Grand Avenue
Chicago, IL 60654
Map and directions
Speaker
Hon. Edward Burke
Edward M. Burke, the Dean of the Chicago City Council, has served as Alderman of Chicago's 14th Ward for fifty years. A recognized expert on city budget matters, Alderman Burke is the Chairman of the City Council Committee on Finance.
A master parliamentarian, Alderman Burke entered politics by following in the footsteps of his father, Joseph P., and became Democratic Committeeman of the 14th Ward in 1968 and Alderman in 1969. Alderman Burke was a Chicago Police Officer, serving from 1965 to 1968. As Chairman of the City Council's powerful Committee on Finance, Alderman Burke holds the city's purse strings and is responsible for all legislative matters pertaining to the city's finances, including municipal bonds, taxes and revenue matters. Alderman Burke became Chairman for the second time in 1989. He previously served from 1983 to 1987. He also serves as a member of the Chicago Plan Commission.
Throughout his career in public life, Alderman Burke has been an avid student of Chicago history and is the co-author of three books, Inside the Wigwam: Chicago Presidential Conventions, 1860-1996; End of Watch: Chicago Police Killed in the Line of Duty, 1853-2006; and Glory & Government, Chicago's City Hall at 100.
Alderman Burke is a partner in the law firm of Klafter & Burke and is involved in many civic and charitable organizations, including the One Hundred Club of Cook County, the Knights of Columbus and the Irish Fellowship Club of Chicago.
A lifelong resident of the Southwest Side, Alderman Burke graduated from Quigley Preparatory Seminary in 1961 and earned his Bachelor's Degree from DePaul University in 1965. He received his Juris Doctor Degree from DePaul University College of Law in 1968 and was admitted to the Illinois Bar that same year.
Alderman Burke and his wife, Anne, a Justice of the Illinois Supreme Court, are the parents of five children: Jennifer, Edward, Sarah, Travis and the late Emmett.
« Back to past events
Upcoming events
Join us at a cocktail reception featuring Chicago's newly-elected alderpeople.  Each alderperson will take a few moments to share what they love about Chicago, their ward, and where they see opportunities for success.
Thursday, Jun 8, 2023
Doors Open at 3:30 pm / Event Begins at 3:45pm
U.S. House of Representatives, IL-5
Tuesday, Jun 27, 2023
Doors Open at 11:30 am / Event Begins at 12:00 pm
City Club of Chicago event tickets are non-refundable. Tickets are transferrable.
Our venues are wheelchair accessible. To request any other accessibility, please contact Amanda Agosti at aagosti@cityclub-chicago.org