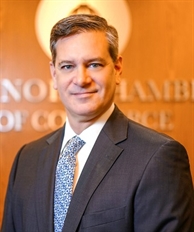 Todd Maisch
President & CEO
Illinois Chamber of Commerce
Tuesday, Feb 13, 2018
11:30 a.m. reception/12:00 p.m. luncheon
Location
Maggiano's Banquets
111 W. Grand Avenue
Chicago, IL 60654
Map and directions
Speaker
Todd Maisch
President and CEO of the Chamber since 2014, Maisch's leadership of a team of policy experts, business advocates, and communicators impacts the legislative, regulatory and judicial branches of government. His influence has created a network of pro-business advocates both on a state and national level.
Since joining the Chamber in 1994, Todd Maisch has made engaging coalitions of employers the cornerstone of the Chamber's reputation as the state's leading business advocate. He puts in practice the Chamber's vision that in helping build stronger businesses, we build a stronger Illinois.
Sound tax and fiscal policy, reducing the regulatory burden on employers, proactive economic development, promoting innovation and greater investment in our critical infrastructure are all key priorities for Maisch and the Chamber. In addition, he has led the Chamber to become the voice of business at the ballot box, supporting pro-business candidates that share the same priorities.
A native of Peoria, Maisch earned an MBA from Illinois State University and a Bachelor of Science degree from the University of Illinois at Urbana-Champaign. Maisch serves as co-chair of the Transportation for Illinois Coalition, serves on the Steering Committee of the Illinois Business Immigration Coalition, and is a member of the U.S. Chamber Committee of 100. Maisch and his wife, Kim, have two children and reside in Springfield.
« Back to past events
Upcoming events
Moderated by H.G. Chissell
Erin Aleman, Rep. Eva-Dina Delgado, Jacky Grimshaw, Leanne Redden
Wednesday, Dec 7, 2022
Doors Open at 11:30 am / Event Begins at 12:00 pm
featuring Dr. Allison Arwady, Dr. Colleen Cicchetti and Senator Mike Simmons
Dr. Vivek Murthy joins Chicago youth, clinicians, and local leaders to dive into the state of youth mental health, innovative approaches to supporting wellness and the importance of eliminating stigma.
Thursday, Dec 8, 2022
Doors Open at 11:30 am / Event Begins at 12:00 pm
City Club of Chicago event tickets are non-refundable. Tickets are transferrable.
Our venues are wheelchair accessible. To request any other accessibility, please contact Amanda Agosti at aagosti@cityclub-chicago.org