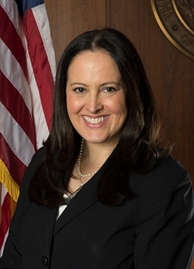 Mariyana Spyropoulos
President
Metropolitan Water Reclamation District of Greater Chicago
Tuesday, Apr 17, 2018
11:30 a.m. reception/12:00 p.m. luncheon
Location
Maggiano's Banquets
111 W. Grand Avenue
Chicago, IL 60654
Map and directions
Speaker
Mariyana Spyropoulos
President Mariyana Spyropoulos was elected in 2010 and re-elected in 2016. She was elected as Chairman of Finance in January 2013 and Board President in January 2015 and 2017.
President Spyropoulos serves as Chairman of three committees: Judiciary; Labor and Industrial Relations; and Pension, Human Resources and Civil Service. She is also Vice Chairman of the Ethics Committee and serves as a Trustee on the Pension Board. In January 2011, the Board of Commissioners appointed her to the Public Building Commission.
President Spyropoulos has championed transparency and fiscal responsibility to the taxpayers of Cook County. She has been a strong supporter of labor and veteran initiatives at the District. She has prioritized community out reach and engagement by speaking to community groups through-out the County about water and environmental issues. In 2017, she received the Illinois Water Environment Association Public Official Award.
President Spyropoulos is an attorney with her own practice. Prior to opening her own law office, President Spyropoulos worked as an Assistant Cook County State's Attorney. Before law school, she lived in London, England, where she worked at Nomura Research Institute. Her work focused on privatization efforts in Eastern European countries.
President Spyropoulos received her law degree from The John Marshall Law School and her MBA from Loyola University Chicago. She also completed graduate work in American government at Georgetown University, Washington, D.C.
« Back to past events
Upcoming events
City of Chicago Inspector General Joseph Ferguson, Chicago Board of Education Inspector General Nicholas Schuler, Cook County Inspector General Patrick Blanchard
Wednesday, Jul 18, 2018
11:30 a.m. reception/12:00 p.m. luncheon
moderated by George Papajohn
Gary Marx, David Jackson, Jennifer Smith Richards, Juan Perez, Jr.
Tuesday, Jul 24, 2018
11:30 a.m. reception/12:00 p.m.
Events sell out quickly!
Don't miss an event. Keep up with the City Club of Chicago.