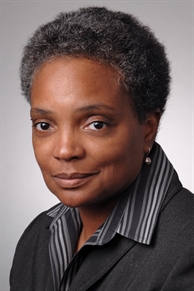 Police Reform: The Path Forward
Lori Lightfoot, Chicago Police Board
Monday, Mar 12, 2018
11:30 a.m. reception/12:00 p.m. luncheon
Location
Maggiano's Banquets
111 W. Grand Avenue
Chicago, IL 60654
Map and directions
Speaker
Lori Lightfoot
As a partner at Mayer Brown LLP, Lori Lightfoot specializes in commercial litigation, internal investigations and other white-collar work on behalf of individual and institutional clients. Lightfoot has extensive experience in every phase of litigation and has tried over 20 cases.
Lightfoot has been committed to public service and social justice throughout her legal career. Lightfoot has been a federal prosecutor and served in a number of leadership roles in Chicago city government. Lightfoot was appointed President of the Chicago Police Board by Mayor Emanuel in 2015 and recently reappointed for a two-year term. As chair of the Mayor's Task Force on Police Accountability, she and her colleagues issued a frank and powerful report revealing systemic problems within the Chicago Police Department and calling for a significant overhaul of Chicago's police accountability infrastructure and reinvestment in training and other areas.
Lightfoot is a sought-after speaker and commentator and has been quoted in a range of publications such as the New York Times, Wall Street Journal, and frequently appeared on news programs such as the BBC, PBS Newshour, All In with Chris Hayes, National Public Radio, as well as local Chicago media.
Lightfoot received the Chicago Lawyers Committee for Civil Rights Under Law Award and Dominican University's Ethics and Leadership Award in 2016, the Financial Times Top 10 Innovative Lawyers in 2016, and in 2017 was named a "Woman of Influence" by the Chicago Business Journal, received the Chicago Inn of Court Donald Hubert Public Service Award, the Chicago Federal Bar Association Walter J. Cummings Award for pro bono service, BPI's Champion of the Public Interest Award and most recently, Crain's Chicago Business named Lightfoot to its inaugural Most Influential Woman Lawyer in Chicago list.
Lightfoot is a proud graduate of the University of Michigan from which she received her undergraduate decree and the University of Chicago Law School.
« Back to past events
Upcoming events
Monday, Dec 17, 2018
11:30 a.m. reception/12:00 p.m. luncheon
Chicago Mayoral Candidate
Tuesday, Dec 18, 2018
7:30 a.m. reception/8:00 a.m. breakfast
Events sell out quickly!
Don't miss an event. Keep up with the City Club of Chicago.