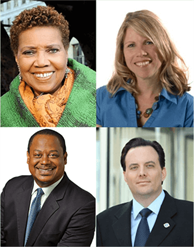 Exodus from Illinois
Kristen McQueary, Mary Mitchell, Dan Proft, and Hon. Rod Sawyer
Tuesday, Mar 6, 2018
11:30 a.m. reception/12:00 p.m. luncheon
Location
Maggiano's Banquets
111 W. Grand Avenue
Chicago, IL 60654
Map and directions
Speakers
Kristen McQueary
Kristen McQueary is an Editorial Board Member of the Chicago Tribune. Her areas of focus include government, politics, education, and candidate endorsements.
Before joining the Tribune in 2012, McQueary wrote a political column for the Sun-Times News Group's SouthtownStar and covered the statehouse for Chicago Public Radio and the Chicago News Cooperative, which published in The New York Times. McQueary is a former President of the Chicago Headline Club and also previously worked for the Peoria Journal Star.
A native of Rockford, McQueary earned her bachelor's degree from Illinois State University and a master's degree from the University of Illinois Springfield.
Mary Mitchell
Mary A. Mitchell is an Editorial Board Member and Columnist for the Chicago Sun-Times. Mitchell joined the Sun-Times as an Education Writer in 1991, and has covered City Hall and US Federal Courts. Published Tuesdays, Thursdays, and Sundays, Mitchell's columns continually raise community awareness about important advocacy issues, including criminal justice, police misconduct, and race relations. In several instances, her reporting led state legislators to strengthen laws protecting the rights of women and children. Today, Mitchell's reporting often rallies African American readers to empower their communities by giving the voiceless a platform to address social ills, such as failing schools, abusive police, disparities in the criminal justice system, and corrupt government officials.
Mitchell has written for several national publications including, Essence magazine. From 2006 through 2010, Mitchell co-hosted a popular Sunday morning public affairs program on V-103. She is a is a frequent panelist on Fox-TV and on WTTW's "Week In Review", and has appeared on national news programs, including "Meet The Press".
Mitchell is a recipient of numerous journalism awards, including the Award of Excellence from the National Association of Black Journalists; the Studs Terkel Award from the Community Media Workshop; the Peter Lisagor Award from the Chicago Headline Club; and in 2011, Mitchell was inducted into the Chicago Journalism Hall of Fame. Mitchell was raised in Chicago and earned a bachelor's degree in journalism from Columbia College Chicago.
Dan Proft
Dan Proft is an entrepreneur, editorial contributor to the Chicago Tribune, former Republican candidate for Governor, and radio talk show host with AM 560 The Answer in Chicago where he co-hosts the morning drive show. He voices a popular political commentary, ":60 of Sanity," heard by 2 million listeners weekly on the Salem Radio Network.
Dan works as a Senior Fellow at the Illinois Policy Institute, a free market think tank in Chicago, and also serves on the boards of directors for the USO of Illinois, a non-profit that provides assistance to Illinois military families, Envision Unlimited, a nonprofit in Chicago that serves developmentally disabled persons, Aid for Women, a Catholic, life-affirming pregnancy center, the Advisory Board of the Center for Civic Leadership at Benedictine University and Truth in Accounting, a nonprofit dedicated to accurate public sector accounting and budgeting. He runs one of Illinois' largest Independent Expenditure PACs, Liberty Principles PAC, which supports candidates committed to the economic liberty policy agenda for state and local offices.
Dan is also a co-founder of Illinois Opportunity Project, a c4 which advocates for free market public policy solutions. Dan earned his BA from Northwestern University and his JD from Loyola University-Chicago School of Law.
Hon. Roderick T. Sawyer
Alderman Roderick T. Sawyer was sworn in as Alderman of the 6th Ward in May of 2011. Chicago's 6th Ward represents the Chatham, Chesterfield, Englewood, Greater Grand Crossing, Park Manor and Auburn-Gresham neighborhoods. In March of 2012 he also became the Democratic Committeeman of the 6th Ward, which is a part of the Cook County Democratic Party.
Alderman Sawyer, who was re-elected in February, 2015 presides as Chairman of the City Council Black Caucus is an active member of the City Council Committees on Education and Child Development, Human Relations, License and Consumer Protection, Pedestrian and Traffic Safety, Special Events, Cultural Affairs and Recreation (Vice-Chairman), Rules and Ethics, Finance and Budget and Government Operations. Alderman Sawyer prides himself on being independent and working for what is in the best interest of his community.
He remains fully committed to strong neighborhoods as he is an active participant in all of the 6th Ward Community Organizations, Resident Association of Greater Englewood (R.A.G.E.), Park Manor Neighbors Community Council, Chatham Avalon Park Community Council, Greater Chatham Alliance, Chesterfield Community Council, West Chesterfield Community Council and Roseland Heights Community Council.
Alderman Sawyer practiced law at the Law Office of Roderick T. Sawyer where he became an expert at licensing issues. Alderman Sawyer uses his legal expertise to promote economic development in his community and to combat problem businesses.
Presently, Alderman Sawyer is on the Board of Directors of the South Shore Drill Team, eta Creative Arts Foundation, Meyering Park Advisory Council and Board of Trustees at St. Mark A.M.E. Zion Church. Since his election in 2001, Alderman Sawyer has served on McDade Classical School's Local School Council as a member and former Chairman. Every year he co-chairs a fundraiser, which raises monies for a scholarship fund that provides financial assistance for disadvantaged African-Americans who attend his high school alma mater.
In 1981, he graduated from St. Ignatius College Prep and four years later, he earned a Bachelor of Science in Finance from DePaul University. He received a Juris Doctorate from IIT-Chicago Kent College of Law in 1990 and was admitted to the Illinois State Bar in the same year.
In his spare time, Alderman Sawyer enjoys deejaying as an amateur music mixologist, playing basketball, softball and dominoes. Roderick is married to Cheryll and they have two children, Sydni Celeste and Roderick T. Jr.
« Back to past events
Upcoming events
Join us at a cocktail reception featuring Chicago's newly-elected alderpeople.  Each alderperson will take a few moments to share what they love about Chicago, their ward, and where they see opportunities for success.
Thursday, Jun 8, 2023
Doors Open at 3:30 pm / Event Begins at 3:45pm
U.S. House of Representatives, IL-5
Tuesday, Jun 27, 2023
Doors Open at 11:30 am / Event Begins at 12:00 pm
City Club of Chicago event tickets are non-refundable. Tickets are transferrable.
Our venues are wheelchair accessible. To request any other accessibility, please contact Amanda Agosti at aagosti@cityclub-chicago.org