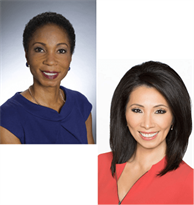 Dr. Helene Gayle in Conversation with Judy Hsu
Tuesday, Apr 3, 2018
11:30 a.m. reception/12:00 p.m. luncheon
Location
Maggiano's Banquets
111 W. Grand Avenue
Chicago, IL 60654
Map and directions
Speakers
Dr. Helene Gayle
Helene D. Gayle is President and CEO of The Chicago Community Trust, one of the nation's leading community foundations. The Trust works with donors, nonprofits, community leaders and residents to lead and inspire philanthropic efforts that improve the quality of life for the residents of the Chicago region. As the seventh executive in the Trust's history, Dr. Gayle is responsible for establishing the priorities of the Trust and building positive engagement with the Trust's diverse family of stakeholders in ways that advance the organization's mission and goals.
Prior to joining the Trust, Dr. Gayle was the inaugural CEO of McKinsey Social Initiative, a nonprofit that brings together varied stakeholders to address complex global social challenges. She was instrumental in setting the organization's direction and building its first program, Generation, designed to increase youth employment in India, Kenya, Mexico, Spain and the United States.
From 2006 to 2015, Dr. Gayle was President and CEO of CARE USA, a leading international humanitarian organization with approximately 10,000 staff whose poverty-fighting programs reached over 97 million people in 87 countries. An expert on global development, humanitarian and health issues, she also spent 20 years with the Centers for Disease Control (CDC), focused primarily on combating HIV/AIDS. She was appointed as the first director of the National Center for HIV, STD and TB Prevention, and achieved the rank of Rear Admiral and Assistant Surgeon General in the U.S. Public Health Service. Dr. Gayle also served as the AIDS coordinator and chief of the HIV/AIDS division for the U.S. Agency for International Development. She then directed the HIV, TB and Reproductive Health Program at the Bill & Melinda Gates Foundation, directing programs on HIV/AIDS and other global health issues.
Named one of Forbes' "100 Most Powerful Women," Foreign Policy magazine's "Top 100 Global Thinkers," and Newsweek's top 10 "Women in Leadership," she has been featured by media outlets as diverse as the New York Times, Washington Post, ForbesWoman, Glamour, Essence, O Magazine, National Public Radio and CNN. She has also authored numerous articles on global and domestic public health issues, poverty alleviation, gender equality and social justice.
Her contributions have been honored with awards from Columbia University, Barnard College, Spelman College, Bryn Mawr College, the National Foundation for Infectious Diseases, the U.S. Public Health Service and AARP, among others. She has received 13 honorary degrees and holds faculty appointments at the University of Washington and Emory University.
Judy Hsu
Judy Hsu anchors the 11AM and 4PM newscasts for ABC 7 Chicago, the most watched news station in the market. Judy is also the host for "Newsviews", a long format interview segment that airs on Sunday mornings.
During her tenure at ABC 7, Judy has been a part of just about every major story in Chicago. Most recently, she was on the anchor desk during the Blizzard of 2015; she helped deliver wall to wall coverage on "CPD in Crisis"; she broadcast the last interview with Chicago Police Superintendent Garry McCarthy; she scored the first TV interview with Illinois First Lady Diana Rauner. While in California, she covered the O.J. Simpson verdict live from the L.A. courthouse and she learned to pull 5 G's flying with the Blue Angels!
Before joining ABC 7, Judy anchored the top-rated 4PM weekday newscast at KFMB-TV in San Diego, CA. She served as KFMB's weekend anchor and general assignment reporter prior.
Judy's on-air work has garnered multiple Emmy awards including an award for her work on ABC 7's Asian Influences: Dream America, a half-hour special highlighting the complexities of immigration law and its effects on the Asian American community. Judy also just received her 16th Emmy nomination including one for "Outstanding Performance" as a news anchor.
Judy chairs the Advisory Board for Chicago's Chinese American Service League, and she was invited to join the Community Memorial Foundation's Regional Health and Human Services Advisory Council in the western suburbs.
Born in Taipei, Taiwan, Judy remains fluent in Mandarin and brings Chicago news a global perspective. She received her B.A. in Broadcast Journalism from the University of Illinois, Urbana-Champaign and began her broadcasting career at the campus radio station, WPGUFM. Following an internship with legendary Chicago anchor Walter Jacobson, Judy landed her first TV job with WCIA in Champaign. One of her passions today is speaking to schoolchildren about the importance for pursuing their dreams.
Judy's roots in the Windy City takes her back to elementary school. Her family immigrated to Chicago from Taiwan when she was 11 years old. From living in Chicago's Chinatown, to Rogers Park, to Morton Grove, to later attending U of I in Urbana-Champaign and then landing an on-air reporting job the day after graduation, Judy truly embodies the spirit of the American Dream success story.
Judy resides in the western suburbs of Chicago with her husband and four children.
« Back to past events
Upcoming events
Paul Vallas will discuss his plan for creating a permanent, standing infrastructure for equitable, community-led economic development centered in historically disinvested parts of the city.
Tuesday, Jan 31, 2023
Doors Open at 11:30 am / Event Begins at 12:00 pm
moderated by Laura Washington
Roseanna Ander, Mecole Jordan-McBride, Mike Milstein, Andrew Papachristos
Wednesday, Feb 1, 2023
Doors Open at 11:30 am / Event Begins at 12:00 pm
City Club of Chicago event tickets are non-refundable. Tickets are transferrable.
Our venues are wheelchair accessible. To request any other accessibility, please contact Amanda Agosti at aagosti@cityclub-chicago.org