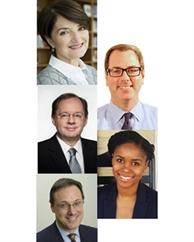 The Future of Digital Media
Bruce Dold, Edwin Eisendrath, Morgan Johnson, Shamus Toomey
moderated by Ellen Alberding
Monday, May 7, 2018
11:30 a.m. reception/12:00 p.m. Luncheon
Location
Maggiano's Banquets
111 W. Grand Avenue
Chicago, IL 60654
Map and directions
Speakers
Ellen Alberding
As president and board member of the Joyce Foundation, Ellen oversees the charitable distribution of $50 million annually from assets of $1 billion. Under her leadership, Joyce has gained national prominence with a grant portfolio rooted in the core belief that communities are stronger when they share benefits broadly. The Joyce Foundation funds the development and advancement of policy reforms to improve quality of life, promote community vitality and strive for a fair society. It invests heavily in research to gather facts and data so that proposed policy solutions are based on solid evidence.
As chief executive of Joyce, Ellen is active in the regional and national policy arena. She is one of the founders of the Partnership for Safe and Peaceful Communities, a funder collaborative investing in community-based strategies to reduce gun violence in Chicago. Ellen was a founding board member of Skills for America's Future, which works to meet the needs of business and improve employment opportunities for community college students, and served as Vice Chair of City Colleges of Chicago. She is a founding board member of Advance Illinois, which advocates for public education reform, and a member of the National Park Foundation board. From 2010 to 2016, Ellen was a board member of the Economic Club of Chicago. She is frequently invited to speak on a range of issues, from the impact of public policy, the role of foundations in addressing the nation's challenges, and philanthropic accountability and governance.
Ellen holds a bachelor's degree in English with honors from Brown University, and an MBA from Northwestern University.
Edwin Eisendrath
Edwin Eisendrath is the CEO of the Chicago Sun-Times and led the effort to save the organization. He brings a lifetime of civic engagement, a deep understanding of the city, and a passion deliver news that matters to the people of Chicago to his new role. A life-long Chicagoan, Eisendrath is a creative leader who gets things done. He has successfully innovated across the public, private, and independent sectors to create value-social as well as economic.
Prior to taking the helm at the Sun-Times, Eisendrath was Managing Partner of StrateSphere, LLC, a firm that specializes in design and implementation of complex and fit-for-purpose public private partnerships in the areas of education, innovation, and economic transformation. He previously led international consulting engagements for Huron Consulting Group, focusing on the GCC. That practice took on transformational engagements using novel tools, such as offset credits from military contractors. Across four continents he has helped clients achieve diverse missions: a national library, an international bank, major research universities, and governments.
Previously, he was the Federal Administrative Receiver who led the turnaround of several troubled public housing authorities, including the nation's worst in Chicago. He served as regional administrator for the US Department of Housing and Urban Development, as a Chicago alderman, and as a teacher in Chicago's schools.
Eisendrath is a member of the Writers Guild of America. He received his bachelor of arts at Harvard University, and went on to get his Master of Arts in Teaching from the National College of Education in Chicago.
Eisendrath lives in Bucktown with his wife Jennifer Schulze, former News Director at WGN, where they raised their three children.
Bruce Dold
Bruce Dold is publisher and editor-in-chief of the Chicago Tribune, the leading source of news and information in Chicago and the Midwest.
In his role, Dold oversees the Chicago Tribune, chicagotribune.com, and other publications in the Chicago Tribune Media Group, including six suburban newspapers, 33 community weeklies, RedEye, the Spanish-language publications Hoy and Fin de Semana, and Tribune digital brands, products, and services.
Dold served as the Tribune's editorial page editor from 2010 until his appointment as publisher and editor-in-chief in 2016. Dold joined the Tribune in 1978 as a reporter and gained extensive experience covering politics and government. He was appointed to the editorial board in 1990 and served as a weekly op-ed columnist for five years.
Dold was awarded the Pulitzer Prize for editorial writing in 1994 for a series on the death of a three-year-old boy and the failure of the juvenile court and child welfare system to protect him. Dold's writing contributed to sweeping reforms in the protection and care of abused children in Illinois. His work has been honored by numerous civic organizations.
Dold was honored in 2015 with a Lifetime Achievement Award from the Chicago Journalists Association and in 2017 was inducted into the Hall of Achievement of the Medill School of Journalism, Media and Integrated Marketing Communications at Northwestern University. He holds a bachelor's degree and master's degree from Northwestern.
Morgan Johnson
Morgan Elise Johnson (Producer/Director) is an independent filmmaker who recently co-founded The TRiiBE (www.thetriibe.com), a digital publication that is reshaping the narrative of Black Chicago. She is also co-producing Unapologetic, a documentary that examines the contributions of queer femmes at the helm of the Movement for Black Lives in Chicago.
Previously, she was a producer for Milwaukee-based production house, 371 Productions, where she co-directed There Are Jews Here (2015) and produced Virtual Reality documentary and Sundance Film Festival selection, Across the Line (2016).
She earned a BS in Radio/TV/Film from Northwestern University and is a native of North Chicago, IL.
Shamus Toomey
Shamus Toomey is Editor-in-Chief of Block Club Chicago.
Block Club Chicago is a nonprofit neighborhood news site started by former editors and reporters at DNAinfo Chicago. They are dedicated to delivering reliable, nonpartisan and essential coverage of Chicago's diverse neighborhoods.

By embedding reporters in the communities they serve and engage with their audience both online and off, Block Club Chicago is able to find and tell the stories that are often overlooked or neglected by traditional news media.
« Back to past events
Upcoming events
Featuring remarks from CPS CEO Pedro Martinez
Jadine Chou, Maria Degillo, Daniel Brown, Dr. LaTacia Morgan-Greene and moderated by Walter Katz
Thursday, Sep 28, 2023
Doors Open at 11:30 am / Event Begins at 12:00 pm
moderated by Amy Totsch
Rev. James T. Meeks, Raul Raymundo, Imelda Salazar and Richard Townsell
Tuesday, Oct 3, 2023
Doors Open at 11:30 am / Event Begins at 12:00 pm
City Club of Chicago event tickets are non-refundable. Tickets are transferrable.
Our venues are wheelchair accessible. To request any other accessibility, please contact Amanda Agosti at aagosti@cityclub-chicago.org