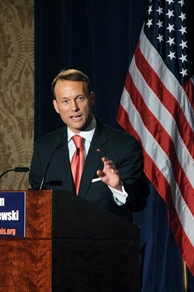 The Open-Government Movement
Adam Andrzejewski
CEO/Founder - OpenTheBooks.com
Thursday, May 3, 2018
11:30 a.m. reception/12:00 p.m. luncheon
Location
Maggiano's Banquets
111 W. Grand Avenue
Chicago, IL 60654
Map and directions
Speakers
Adam Andrzejewski
Adam Andrzejewski is an entrepreneur and the CEO/founder of OpenTheBooks.com. Before dedicating his life to public service, Adam co-founded HomePages Directories, a $20 million publishing company (1997-2007). His works have been featured on Good Morning America, ABC World News Tonight, The Wall Street Journal, USA Today, Chicago Tribune, Real Clear Politics, NBC News, FOX News, CNN, and many other prominent news platforms across America.
Recently, Andrzejewski spoke at Harvard Law School, Georgetown Law School, and the Columbia School of Journalism. Last September, Adam was a guest on Brian Lamb's hour-long C-SPAN Q&A program. As a contributor at Forbes, Adam's editorials have received 2 million unique views.
In 2010, Adam ran for Governor of Illinois. He's a graduate of Northern Illinois University. Adam has run the Chicago Marathon six times. He's married to Kerry with three daughters and lives in Hinsdale, Illinois.
Open the Books
OpenTheBooks.com is the largest private repository of U.S. public-sector spending. With Honorary Chairman Dr. Tom Coburn, OpenTheBooks.com has one ultimate goal: post "every dime, online, in real time." To date, OpenTheBooks.com has captured 4 billion government-spending records, including nearly all disclosed federal government spending since 2000; 47 of 50 state checkbooks; and 16 million public employee salary and pension records across America.
OpenTheBooks.com exposed the $20 million luxury-art procurement program at the Department of Veterans Affairs, which forced a public apology from the V.A. Secretary and the adoption of new rules to stop the abuse (2016). The group found 63,000 highly compensated Illinois public employees earned $100,000+ costing taxpayers $10 billion (2017). Recently, OpenTheBooks launched Mapping the Swamp - an interactive mapping platform displaying 2 million federal bureaucrats by employer ZIP code across America.
« Back to past events
Upcoming events
Chief Executive Officer
Chicago Public Schools
Tuesday, Dec 5, 2023
Doors Open at 11:30 am / Event Begins at 12:00 pm
moderated by Andrew Broy
Macke Raymond, Constance Jones and Greg White
Tuesday, Dec 12, 2023
Doors Open at 11:30 am / Event Begins at 12:00 pm
City Club of Chicago event tickets are non-refundable. Tickets are transferrable.
Our venues are wheelchair accessible. To request any other accessibility, please contact Amanda Agosti at aagosti@cityclub-chicago.org