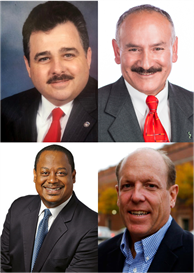 Civilian Police Oversight: A Bridge Too Far?
Kevin Graham, Hon. Harry Osterman, Hon. Roderick Sawyer, and Hon. Ariel Reboyras
Monday, May 21, 2018
11:30 a.m. reception/12:00 p.m. luncheon
Location
Maggiano's Banquets
111 W. Grand Avenue
Chicago, IL 60654
Map and directions
Speakers
Ariel E. Reboyras
In 2003, Ariel E. Reboyras was sworn in as Alderman of the 30th Ward. Born in New York City, where, at the age of twelve, his parents relocated the family to Chicago. While attending the University of Illinois at Chicago, he majored in Education and was co-captain for the UIC "Flames" baseball team.
Following his tenure as a teacher at Roberto Clemente High School, Ariel began his career with the City of Chicago. He was a truck driver, worked as an Equipment Dispatcher, supervised an underground storage tank remediation program for Fleet Management, became an Equipment Coordinator for the Department of Water Management, assisted with design specifications for the Fleet Management Division, and was promoted to Deputy Commissioner for the Department of General Services.
In 2015, Ariel was appointed Chairman of the Committee on Public Safety. He is a member of several committees; Aviation, Budget & Government Operations, Committees, Rules & Ethics, Finance, Health & Environmental Protection, Housing & Real Estate, Human Relation, and License & Consumer Protection. He is also the Committeeman of the 30th Ward.
Ariel has volunteered his services to various parks and non-profit organizations, which includes little league baseball and youth football programs. He is also a co­ founder of the Northwest Youth Basketball Association and "Maraton San-Juan," an SK Road Race in collaboration with the Chicago Puerto Rican Parade.
For twelve years, Ariel has participated in the Test Positive Aware Network's Ride for Aids/Chicago, a two day/200 mile bicycling event. On the first Sunday in December, you can catch him riding in the annual Toys for Tots motorcycle parade. He has also plunged for Chicago's Special Olympics.
Hon. Roderick T. Sawyer
Alderman Roderick T. Sawyer was sworn in as Alderman of the 6th Ward in May of 2011. Chicago's 6th Ward represents the Chatham, Chesterfield, Englewood, Greater Grand Crossing, Park Manor and Auburn-Gresham neighborhoods. In March of 2012 he also became the Democratic Committeeman of the 6th Ward, which is a part of the Cook County Democratic Party.
Alderman Sawyer, who was re-elected in February, 2015 presides as Chairman of the City Council Black Caucus is an active member of the City Council Committees on Education and Child Development, Human Relations, License and Consumer Protection, Pedestrian and Traffic Safety, Special Events, Cultural Affairs and Recreation (Vice-Chairman), Rules and Ethics, Finance and Budget and Government Operations. Alderman Sawyer prides himself on being independent and working for what is in the best interest of his community.
Alderman Sawyer practiced law at the Law Office of Roderick T. Sawyer where he became an expert at licensing issues. Alderman Sawyer uses his legal expertise to promote economic development in his community and to combat problem businesses.
Presently, Alderman Sawyer is on the Board of Directors of the South Shore Drill Team, eta Creative Arts Foundation, Meyering Park Advisory Council and Board of Trustees at St. Mark A.M.E. Zion Church. Since his election in 2001, Alderman Sawyer has served on McDade Classical School's Local School Council as a member and former Chairman. Every year he co-chairs a fundraiser, which raises monies for a scholarship fund that provides financial assistance for disadvantaged African-Americans who attend his high school alma mater.
In 1981, he graduated from St. Ignatius College Prep and four years later, he earned a Bachelor of Science in Finance from DePaul University. He received a Juris Doctorate from IIT-Chicago Kent College of Law in 1990 and was admitted to the Illinois State Bar in the same year.
Kevin Graham
Fraternal Order of Police Lodge 7 President Kevin Graham began his career in law enforcement in 1983 working as a Suburban Police Officer after attending the City of Chicago's police academy for metro officers. Just a year later, he began working as a detective. Then, in 1986 he joined the Cook County.
Graham decided he wanted to work for Chicago department, so he joined the Chicago Police Department in 1995 as a patrolman in the 23rd and 19th District.
Graham quickly became interested in the Lodge issues and began helping officers with their grievances and understanding their collective bargaining agreement. He regularly attended Lodge general membership meetings, becoming an elected district representative in 2000, then a Lodge board member.
In 2012, Graham became the First Vice President of the State FOP Lodge, working out disputes and grievances among the various Lodge's throughout the state.
In 2016, Graham assembled a slate of officers in Chicago and won the presidency, along with several other seats on the board.
Graham has earned degrees in law enforcement, public administration and a masters degree from Northwestern in public policy. Graham, who worked his entire career as a patrolman in Chicago before being elected President, is married to a physician, who lovingly reminds him about non-law enforcement issues. A huge Beatles fan, Graham also has a daughter, who is currently living in England.
Hon. Harry Osterman
Harry Osterman has been Alderman of the 48th Ward since May 2011. He is a progressive, independent voice committed to serving his community.
He led the fight to close the gun show loophole, renovate the Broadway Armory, increase safety for seniors and nursing home patients, expand early childhood education, improve our local schools, and secure grants for more security cameras near CTA stops and Cease Fire violence intervention.
For 11 years before being elected as Alderman, Harry was the State Representative for the 14th District, serving the Andersonville, Edgewater, and Rogers Park neighborhoods. As a State Representative, Harry tirelessly fought for legislation to improve the quality of life in his district.
Harry was born in Chicago and grew up in Edgewater. A lifelong resident of the 48th Ward, he and his wife, Peggy, are committed to raising their three children in this diverse neighborhood.
« Back to past events
All guests must provide proof of full vaccination at check-in.
City Club of Chicago event tickets are non-refundable. Tickets are transferrable.