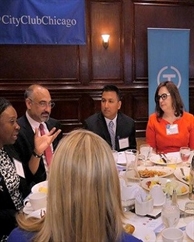 On The Table Breakfast: Building Peace in Chicago
Ric Estrada, Walter Katz, Maria Wynne
Tuesday, May 8, 2018
7:30 a.m. reception/8 a.m. breakfast
Location
Maggiano's Restaurant
516 N. Clark Street
Chicago, IL 60654
Map and directions
Please note this event is held at Maggiano's Restaurant:

516 N. Clark Street
Speakers
On The Table
Join the talk on "Building Peace in Chicago" with Metropolitan Family Services' Ric Estrada, City of Chicago's Walter Katz, and Leadership Greater Chicago's Maria Wynne. Hosted by the City Club of Chicago, The Chicago Community Trust and Leadership Greater Chicago, On the Table, attendees will take part in conversations with their tablemates about issues facing our communities and how we can collectively do something to address them. LGC Fellows and other civic leaders will act as pre-designated table captains and lead the conversation at each table. These On the Table conversations will be just some of many taking place across the region on May 8, engaging thousands of Chicagoans.
Ric Estrada
Ric Estrada is CEO of Metropolitan Family Services. Founded in 1857 Metropolitan is one of Illinois' largest and best respected human services agencies. Since joining Metropolitan in 2011 Estrada has helped the agency grow by 90 percent in revenue and families served.
Estrada has nearly three decades of leadership experience in human services, philanthropy and government. Prior to joining Metropolitan Estrada served as First Deputy Commissioner of the City of Chicago's Department of Family and Support Services (DFSS). Before that he served as Executive Director of Erie Neighborhood House in Chicago, where his accomplishments included founding the Erie Elementary Charter School.
Estrada's educational background is grounded in social services and business, including an MBA from the University of Illinois at Chicago, an M.A. in Social Service Policy and Administration from the University of Chicago School of Social Service Administration, and a B.S. in Psychology from Loyola University of Chicago.
Walter Katz
Walter Katz was named Deputy Chief of Staff for Public Safety by Mayor Rahm Emanuel in 2017.
Katz has served as the Independent Police Auditor for the City of San José since November 2015. There, he directed the independent oversight of police misconduct investigations, community outreach and development of policy recommendations. Previously, Katz served as a Deputy Inspector General for the County of Los Angeles Office of Inspector General (OIG), overseeing the Los Angeles County Sheriff's Department (LASD). Prior, he worked as an attorney at the OIG's predecessor agency, the Office of Independent Review, from 2010 to 2014. In those roles, he led the implementation LASD's body-worn cameras, developed a framework for increased transparency in civilian complaint data to the public and reviewed disciplinary investigations.
Katz is on the board of directors of the National Association for Civilian Oversight of Law Enforcement (NACOLE) and is a co-chair of the Training, Education and Standards Committee. He
has written about models for independent investigations of police-related deaths in the Harvard Law Review and police accountability.
He received his law degree from the McGeorge School of Law at the University of the Pacific and his undergraduate degree from the University of Nevada, Reno. He is a native of Chicago.
Maria Wynne
Maria Wynne is the CEO of Leadership Greater Chicago.
Wynne has distinguished herself as an executive with broad leadership experience in the corporate, public and nonprofit sectors. Her successes include accomplishments as a technology and telecommunications executive where she has demonstrated leadership in sales and marketing, business development and operations management, and where she consistently delivered P&L growth while driving employee and customer satisfaction.
A recognized executive, Wynne has received an Outstanding Alumni distinction by her alma mater, North Central College (2012) and was named Chicago Executive of the Year by the Public Relations Society of America (2011). She was also recognized as one of Today's Chicago Woman magazine's 100 Women of Influence (2013) and as one of 100 Women Making a Difference (2011).
Wynne earned her Bachelor of Arts degree at North Central College in Naperville, Illinois, and a Master of Business Administration from Northern Illinois University.
« Back to past events
Upcoming events
Laura Washington, Greg Hinz, Maze Jackson
Monday, Sep 24, 2018
11:30 a.m. reception/12:00 p.m.
Illinois Tollway
Executive Director
Tuesday, Sep 25, 2018
11:30 a.m. reception/ 12:00 p.m. luncheon
Events sell out quickly!
Don't miss an event. Keep up with the City Club of Chicago.