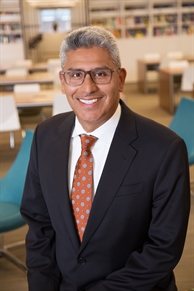 Juan Salgado
Chancellor
City Colleges of Chicago
Thursday, Jun 21, 2018
11:30 a.m. reception/12:00 p.m. luncheon
Location
Maggiano's Banquets
111 W. Grand Ave.
Chicago, IL 60654
Map and directions
Speaker
Juan Salgado
City Colleges of Chicago Chancellor Juan Salgado has focused his more than 20-year career on improving education and economic opportunities for residents in low-income communities.
As Chancellor, he oversees Chicago's community college system, serving more than 80,000 students across seven colleges.
From 2001 to 2017, he served as CEO of Instituto del Progreso Latino, where he worked to empower residents of Chicago's Southwest Side through education, citizenship, and skill-building programs that led to sustainable employment and economic stability.
Chancellor Salgado is a community college graduate himself, earning an associate degree from Moraine Valley Community College, prior to earning a Bachelors degree from Illinois Wesleyan University, and a Masters degree in Urban Planning from the University of Illinois at Urbana-Champaign.
Chancellor Salgado has been nationally recognized for his work, most recently as a 2015 MacArthur Fellow, one of the most prestigious innovation prizes in the United States.
« Back to past events
Upcoming events
Moderated by Tom Cross
Dan Proft, Pat Brady & Kristen McQueary
Monday, Nov 19, 2018
11:30 a.m. reception/12:00 p.m. luncheon
Moderated by Joshua Hale
Carol Lavin Bernick, Alicia Gonzalez & Angelique Power
Tuesday, Nov 20, 2018
11:30 a.m. reception/12:00 p.m. luncheon
Events sell out quickly!
Don't miss an event. Keep up with the City Club of Chicago.