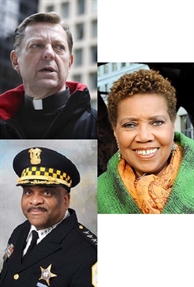 Crime in Chicago: Perception vs. Reality
Supt. Eddie Johnson, Mary Mitchell, Father Michael Pfleger
Thursday, Sep 27, 2018
11:30 a.m. reception/12:00 p.m.
Location
Maggiano's Banquets
111 W. Grand Avenue
Chicago, IL 60654
Map and directions
Speakers
Fr. Michael Pfleger
Fr. Dr. Michael Louis Pfleger received his B.A. in Theology from Loyola University, his Master of Divinity from the University of St. Mary of the Lake and an honorary Doctor of Divinity from North Park Theological Seminary. He has also completed post-graduate studies at Mundelein College and the Catholic Theological Union.
Since 1968, Father Pfleger has lived and ministered in the African-American community on both the west and south sides of Chicago. He spent two Summers working in a Native American community in Oklahoma, and did his seminary internship as a Chaplin at Cook County Jail and at Precious Blood Catholic Church, both in Chicago.
Father Pfleger was cited in the December 20, 2004, Crain's Chicago Business as one of the best and entertaining preachers in Chicagoland. Also, The Faith Community of Saint Sabina was written up in the December 2004 issue of Ebony Magazine as one of the churches symbolizing the "New Black Spirituality."
Father Pfleger has been involved in many issues, such as, campaigns against the sale of drug paraphernalia, billboards that targeted children with alcohol and tobacco advertising and saturated communities of Color, negative music that glorified violence and degraded women, the violence and disrespect of women on The Jerry Springer Show and the easy access to guns and the violence that is snatching the lives of children across the country.
Eddie T. Johnson
Eddie T. Johnson has served as Superintendent of the Chicago Police Department since his appointment in March 2016. Johnson joined CPD as a Patrolman in May 1988 and has served in several supervisory roles, including Sergeant (5th District), Sergeant (Detective Division), and Gang/Tactical Sergeant. After that, he served as a Lieutenant in Patrol in the 15th District (Austin) before being promoted to Commander of the 6th District (Gresham), Deputy Chief for Area Central, Executive Officer of Patrol, and finally, Chief of Patrol, where he commanded 8,000 police officers.
Johnson is a Member of the Executive Board of NOBLE's Chicago Chapter, the St. Jude Board of Directors, and the Chicago Police Memorial Foundation Assistance Committee. He has a received a number of policing awards, including department commendations, the Chicago Defender Men of Excellence Award, and others. A Chicago native, Johnson grew up in Cabrini Green until he was nine years old, at which point his family moved to Washington Heights where he continues to reside.
Mary Mitchell
Mary A. Mitchell is an Editorial Board Member and Columnist for the Chicago Sun-Times. Mitchell joined the Sun-Times as an Education Writer in 1991, and has covered City Hall and US Federal Courts. Published Tuesdays, Thursdays, and Sundays, Mitchell's columns continually raise community awareness about important advocacy issues, including criminal justice, police misconduct, and race relations. In several instances, her reporting led state legislators to strengthen laws protecting the rights of women and children. Today, Mitchell's reporting often rallies African American readers to empower their communities by giving the voiceless a platform to address social ills, such as failing schools, abusive police, disparities in the criminal justice system, and corrupt government officials.
Mitchell is a recipient of numerous journalism awards, including the Award of Excellence from the National Association of Black Journalists; the Studs Terkel Award from the Community Media Workshop; the Peter Lisagor Award from the Chicago Headline Club; and in 2011, Mitchell was inducted into the Chicago Journalism Hall of Fame. Mitchell was raised in Chicago and earned a bachelor's degree in journalism from Columbia College Chicago.
« Back to past events
Upcoming events
CEO
Metropolitan Pier and Exposition Authority
Tuesday, Jun 25, 2019
11:30 a.m. reception/12:00 p.m. luncheon
State of Illinois
Tuesday, Jul 9, 2019
11:30 a.m. reception/12:00 p.m. luncheon
Events sell out quickly!
Don't miss an event. Keep up with the City Club of Chicago.