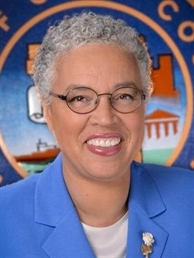 Hon. Toni Preckwinkle - Breakfast
Wednesday, Nov 14, 2018
7:30 a.m. reception/8:00 a.m. breakfast
Location
Union League Club
65 Jackson Blvd
Chicago, IL 60604
Map and directions
*This event will take place at the Union League Club*
Speaker
Hon. Toni Preckwinkle
Cook County Board President Toni Preckwinkle has been a dedicated community leader for over two decades. She has worked with the Cook County Board of Commissioners, elected officials and County employees to implement major reform and reshape County government through fiscal responsibility, innovative leadership, transparency and accountability, and improved services
President Preckwinkle has developed a broad policy agenda – focusing on critical public safety reform, working to strengthen the County's health care system, and increasing the capacity and capability of our economic development efforts.
Before being elected Cook County Board President, Preckwinkle served 19 years as Alderman of the 4th Ward. During her tenure she worked to improve our local public schools and increase the amount of affordable housing sponsoring two Living Wage and Affordable Housing ordinances. Her independent and progressive leadership earned her the IVI-IPO Best Alderman Award six times as well as two Leon Despres Awards.
« Back to past events
Upcoming events
CEO
Metropolitan Pier and Exposition Authority
Tuesday, Jun 25, 2019
11:30 a.m. reception/12:00 p.m. luncheon
State of Illinois
Tuesday, Jul 9, 2019
11:30 a.m. reception/12:00 p.m. luncheon
Events sell out quickly!
Don't miss an event. Keep up with the City Club of Chicago.