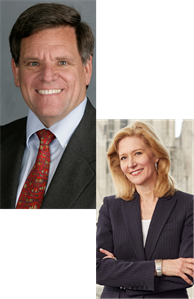 Rocky Wirtz
in conversation with Mary Ann Childers
Wednesday, Sep 12, 2018
11:30 a.m. reception/12:00 p.m. lunch
Location
Union League Club
65 Jackson Blvd
Chicago, IL 60604
Map and directions
*This event will take place at the Union League Club*
Following the event Rocky Wirtz and Blackhawks legend Tony Esposito will be signing copies of The Breakaway: The Untold Story of the Wirtz Family. The book may be purchased on-site for $50 and all proceeds benefit the Chicago Blackhawks Foundation.
Speakers
Rocky Wirtz
W. Rockwell (Rocky) Wirtz was named President of Wirtz Corporation and Chairman of the Chicago Blackhawks in October 2007, following his late father, William W. Wirtz.
Today, Wirtz Corporation is one of the largest privately-held and family-owned companies in the United States. As President of Wirtz Corporation, Rocky's role extends to a vast array of businesses from Sports and Beverage Distribution to Entertainment, Real Estate, Agriculture, Insurance and Banking.
Rocky and his wife, Marilyn, reside in the northern suburbs of Chicago. Rocky has three children, Daniel, Hillary and Kendall; Marilyn has one daughter, Elizabeth. Rocky is also the proud grandfather of three granddaughters and two grandsons.
Mary Ann Childers
Mary Ann Childers is one of the most recognized and respected voices in Chicago broadcasting. As an Emmy-award winning anchor and reporter at ABC & CBS-owned stations, she reported virtually every major regional news story for more than 20 years.
« Back to past events
Upcoming events
Wednesday, Aug 7, 2019
11:30 a.m. reception/12:00 p.m. luncheon
Chancellor
University of Illinois at Urbana-Champaign
Tuesday, Aug 20, 2019
11:30 a.m. reception/12:00 p.m. luncheon
Events sell out quickly!
Don't miss an event. Keep up with the City Club of Chicago.