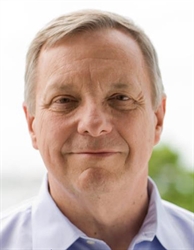 Senator Dick Durbin - Breakfast
Monday, Oct 1, 2018
7:30 a.m. reception/8:00 a.m. breakfast
Location

Maggiano's Banquets, 111 W. Grand Ave.
Chicago, IL 60654
Map and directions
Senator Durbin will be discussing a new hospital-led grassroots initiative to reduce Chicago violence and improve health.
Speaker
Hon. Dick Durbin
Senator Dick Durbin, a Democrat from Springfield, is the 47th U.S. Senator from the State of Illinois, the state's senior senator, and the convener of Illinois' bipartisan congressional delegation.
Durbin also serves as the Democratic Whip, the second highest ranking position among the Senate Democrats. Senator Durbin has been elected to this leadership post by his Democratic colleagues every two years since 2005.
Durbin sits on the Senate Judiciary, Appropriations, and Rules Committees. He is the Ranking Member of the Judiciary Committee's Subcommittee on the Constitution and the Appropriations Committee's Defense Subcommittee.
Senator Durbin makes approximately 50 round trips a year between Washington and Illinois. He is married to Loretta Schaefer Durbin. Their family consists of three children--Christine (deceased), Paul and Jennifer--as well as three grandchildren, Alex, Ona and Floyd. They reside in Springfield
« Back to past events
Upcoming events
CEO
Metropolitan Pier and Exposition Authority
Tuesday, Jun 25, 2019
11:30 a.m. reception/12:00 p.m. luncheon
State of Illinois
Tuesday, Jul 9, 2019
11:30 a.m. reception/12:00 p.m. luncheon
Events sell out quickly!
Don't miss an event. Keep up with the City Club of Chicago.