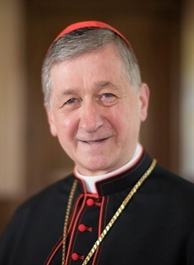 Cardinal Cupich - Breakfast
Tuesday, Nov 27, 2018
7:30 a.m. reception/8:00 a.m. breakfast
Location
Maggiano's Banquets
111 W. Grand Avenue
Chicago, IL 60654
Map and directions
Speaker
Cardinal Blase Joseph Cupich
Cardinal Cupich was appointed Archbishop of Chicago by Pope Francis on September 20, 2014, and installed as the ninth Archbishop of Chicago on November 18, 2014.
On October 9, 2016, Pope Francis named him a Cardinal and he was elevated to the College of Cardinals in a consistory on November 19, 2016 at St. Peter's Basilica in Vatican City.
Additionally, Cardinal Cupich was the Secretary at the Apostolic Nunciature in Washington, D.C. from 1981-1987; and served as Chair for the United States Conference of Catholic Bishops' (USCCB) Committee for the Protection of Children and Young People from 2008-2011 and for the National Catholic Educational Association from 2013-2015.
Cardinal Cupich obtained his B.A. in Philosophy from the College of St. Thomas in St. Paul, Minnesota, in 1971. He attended seminary at the North American College and Gregorian University in Rome, where he received his Baccalaureate in Sacred Theology in 1974, and his M.A. in Theology in 1975. Cardinal Cupich is a graduate of the Catholic University of America in Washington, D.C., where he received a Licentiate of Sacred Theology in 1979 and a Doctorate of Sacred Theology in 1987, both in Sacramental Theology, with his dissertation entitled, "Advent in the Roman Tradition: An Examination and Comparison of the Lectionary Readings as Hermeneutical Units in Three Periods."
« Back to past events
Upcoming events
CEO
Metropolitan Pier and Exposition Authority
Tuesday, Jun 25, 2019
11:30 a.m. reception/12:00 p.m. luncheon
State of Illinois
Tuesday, Jul 9, 2019
11:30 a.m. reception/12:00 p.m. luncheon
Events sell out quickly!
Don't miss an event. Keep up with the City Club of Chicago.