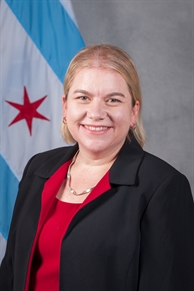 Dr. Allison Arwady
Chicago Department of Public Health
Commissioner
Monday, Jun 6, 2022
Doors Open at 11:30 am / Event Begins at 12:00 pm
Location
Maggiano's Banquets
111 W. Grand Avenue
Chicago, IL 60654
Map and directions
Speaker
Dr. Allison Arwady
Dr. Allison Arwady, MD, MPH, is the Commissioner of the Chicago Department of Public Health (CDPH). Dr. Arwady started at CDPH in 2015 and served as Chief Medical Officer before being confirmed by the City Council as Commissioner in January, 2020. As Chief Medical Officer she oversaw the disease control, environmental health, emergency preparedness, and behavioral health divisions. She has worked on disease outbreaks, immunization promotion, tuberculosis response, lead poisoning prevention, substance misuse, and more. Prior to CDPH, she worked for the U.S. Centers for Disease Control and Prevention (CDC) as an Epidemic Intelligence Service officer. In that role, she focused on outbreak response, including international work on Ebola and Middle East Respiratory Syndrome. While based at the Illinois Department of Public Health, she responded to disease outbreaks across the state. She has a bachelor's degree from Harvard University, a master's degree in public health from Columbia University, and completed medical school and clinical training at Yale University. She is a board-certified internal medicine physician and pediatrician, and continues to see primary care patients weekly.
« Back to past events
Upcoming events
Moderated by H.G. Chissell
Erin Aleman, Rep. Eva-Dina Delgado, Jacky Grimshaw, Leanne Redden
Wednesday, Dec 7, 2022
Doors Open at 11:30 am / Event Begins at 12:00 pm
featuring Dr. Allison Arwady, Dr. Colleen Cicchetti and Senator Mike Simmons
Dr. Vivek Murthy joins Chicago youth, clinicians, and local leaders to dive into the state of youth mental health, innovative approaches to supporting wellness and the importance of eliminating stigma.
Thursday, Dec 8, 2022
Doors Open at 11:30 am / Event Begins at 12:00 pm
City Club of Chicago event tickets are non-refundable. Tickets are transferrable.
Our venues are wheelchair accessible. To request any other accessibility, please contact Amanda Agosti at aagosti@cityclub-chicago.org