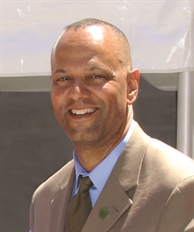 Arnold Randall
General Superintendent
Forest Preserves of Cook County
Tuesday, Feb 21, 2023
Doors Open at 11:30 am / Event Begins at 12:00 pm
Location
Maggiano's Banquets
111 W. Grand Avenue
Chicago, IL 60654
Map and directions
Join General Superintendent Arnold Randall for a presentation on the past, present and future of the Forest Preserves, including discussion of the impact of the successful passage of the November 2022 ballot referendum, plans for expanding and improving our nearly 70,000 acres of preserves, and our commitment to racial equity, diversity & inclusion and sustainability efforts.
Speaker
Arnold Randall
Arnold Randall has served as the General Superintendent of the Forest Preserves of Cook County since being appointed to the position in 2010 by Forest Preserve District of Cook County President Toni Preckwinkle.

During General Superintendent Randall's tenure, the Forest Preserves has made notable strides in becoming a more transparent, accountable and strategic government agency, with an increased focus on restoring and protecting Cook County's most precious natural areas. Key accomplishments include an ambitious Next Century Conservation Plan, successful passage of a referendum to bring increased resources to meet the Forest Preserves' mission and ensure a sustainable fiscal future, a focus on bringing new and diverse audiences to the Preserves, opening five new campgrounds that re-establish the Preserves' legacy of camping, and creating an independent advisory Conservation and Policy Council comprised of civic and business leaders.
Before his tenure at the Forest Preserves, General Superintendent Randall served as director of the Office of Civic Engagement at the University of Chicago and commissioner of the City of Chicago's Department of Planning and Development. He also served in a number of roles with the Chicago Park District, including director of legislative and community affairs, director of planning and development, and lakefront area and southeast region manager.
General Superintendent Randall serves on the Board of Directors of the National Recreation and Park Association and has served as chair of the Chicago Community Development Commission and Chicago Wilderness. Among his awards when leading the Forest Preserves, he has been honored with the Cornelius Amory Pugsley Medal for Parks and Conservation from the American Academy for Park and Recreation Administration, the Agency Leadership Award from the Public Lands Alliance, and the Motorola Solutions Foundation Excellence in Public Service Award from the Civic Federation.
« Back to past events
Upcoming events
Chief Executive Officer
Chicago Public Schools
Tuesday, Dec 5, 2023
Doors Open at 11:30 am / Event Begins at 12:00 pm
moderated by Andrew Broy
Macke Raymond, Constance Jones and Greg White
Tuesday, Dec 12, 2023
Doors Open at 11:30 am / Event Begins at 12:00 pm
City Club of Chicago event tickets are non-refundable. Tickets are transferrable.
Our venues are wheelchair accessible. To request any other accessibility, please contact Amanda Agosti at aagosti@cityclub-chicago.org