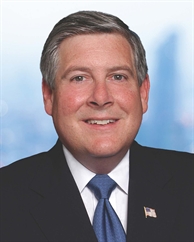 Kirk Dillard
Chairman
Regional Transportation Authority
Wednesday, Feb 22, 2023
Doors Open at 11:30 am / Event Begins at 12:00 pm
Location
Maggiano's Banquets
111 W. Grand Avenue
Chicago, IL 60654
Map and directions
Speaker
Kirk Dillard
Kirk Dillard has served as the chairman of the Regional Transportation Authority (RTA) Board of Directors since June 2014. He was elected to his second term on May 16, 2019.
Chairman Dillard and the RTA Board oversee the nation's second-largest public transportation system, which serves more than eight million residents in Cook, DuPage, Kane, Lake, McHenry, and Will counties. The Authority is charged with regional financial oversight, funding, and transit planning for Chicago Transit Authority (CTA), Metra and Pace Suburban Bus and ADA Paratransit. The RTA manages a regional transit operating budget of approximately $3 billion with assets of about $160 billion and a more than $8.3 billion five-year capital program. During Dillard's first term, the RTA created Invest in Transit, the regional transit strategic plan covering 2018-2023 that makes the case for the region's capital funding needs. Dillard played an important role in regional advocacy efforts that culminated with the 2019 passage of Rebuild Illinois, the largest capital bill in Illinois history.
Chairman Dillard is a lifelong resident of the region and has been a rider of public transportation for more than 50 years, riding CTA buses and trains since early childhood, and now is a regular rider of Metra. He is a staunch advocate for transit funding throughout the region, appearing on countless media outlets and speaking at many regional events. He is a recipient the American Public Transportation Association's 'Best of the Best' award for his leadership of Chicagoland's mass transit system. Dillard served as a Republican senator from Chicago's western suburbs in the Illinois State Senate for nearly 20 years. Prior to serving as senator, Chairman Dillard served with distinction as Chief of Staff to former Governor Jim Edgar and as Legislative Director to former Governor James Thompson. He is currently a partner at Locke Lord LLP, one of Chicago's oldest and largest law firms. Chairman Dillard can be followed on Twitter @KDillardRTA.
« Back to past events
Upcoming events
Join us at a cocktail reception featuring Chicago's newly-elected alderpeople.  Each alderperson will take a few moments to share what they love about Chicago, their ward, and where they see opportunities for success.
Thursday, Jun 8, 2023
Doors Open at 3:30 pm / Event Begins at 3:45pm
U.S. House of Representatives, IL-5
Tuesday, Jun 27, 2023
Doors Open at 11:30 am / Event Begins at 12:00 pm
City Club of Chicago event tickets are non-refundable. Tickets are transferrable.
Our venues are wheelchair accessible. To request any other accessibility, please contact Amanda Agosti at aagosti@cityclub-chicago.org