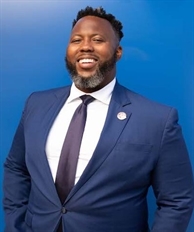 State Representative Kam Buckner
Join State Representative Buckner as he shares his vision for Chicago and his plans to revitalize Downtown, including the Magnificent Mile, LaSalle Street, and Lakeshore Drive
Thursday, Jan 26, 2023
Doors Open at 8:00 am / Event Begins at 8:30 am
Location
Maggiano's Banquets
111 W. Grand Avenue
Chicago, IL 60654
Map and directions
Speaker
State Representative Kam Buckner
Kam Buckner is a son of Chicago. Growing up in Roseland and Washington Heights, his father was a law enforcement officer and his mother was a teacher. He attended Chicago Public Schools, graduating from Morgan Park High School before going to college at the University of Illinois and later law school at DePaul University.
Kam worked on Capitol Hill for Senator Dick Durbin before coming home to join the Chicago Cubs leading their community outreach. In 2015, Kam became the Executive Director of the nonprofit World Sport Chicago, where he served 70,000 students across the city.
In 2019, Kam was sworn into the General Assembly to the Illinois House of Representatives, his district runs from South Chicago to the Gold Coast. As a State Representative, Kam is House Chair of the Illinois Legislative Black Caucus, was a lead negotiator on the nation's most comprehensive and consequential clean energy package, and has worked to pass legislation on public safety, equitable schools, economic empowerment, and jobs.
Kam lives in the Bronzeville neighborhood with his wife, Bernardette, and their son, Kas.
« Back to past events
Upcoming events
Paul Vallas will discuss his plan for creating a permanent, standing infrastructure for equitable, community-led economic development centered in historically disinvested parts of the city.
Tuesday, Jan 31, 2023
Doors Open at 11:30 am / Event Begins at 12:00 pm
moderated by Laura Washington
Roseanna Ander, Mecole Jordan-McBride, Mike Milstein, Andrew Papachristos
Wednesday, Feb 1, 2023
Doors Open at 11:30 am / Event Begins at 12:00 pm
City Club of Chicago event tickets are non-refundable. Tickets are transferrable.
Our venues are wheelchair accessible. To request any other accessibility, please contact Amanda Agosti at aagosti@cityclub-chicago.org