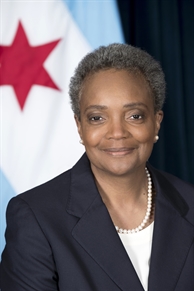 Mayor Lori E. Lightfoot
Join Mayor Lightfoot as she discusses the City's financial turnaround and why she is optimistic about Chicago's future
Friday, Jan 27, 2023
Doors Open at 11:30 am / Event Begins at 12:00 pm
Location
Maggiano's Banquets
111 W. Grand Avenue
Chicago, IL 60654
Map and directions
Speaker
Mayor Lori E. Lightfoot
Following her historic election, Chicago Mayor Lori E. Lightfoot has undertaken an ambitious agenda of expanding opportunity and inclusive economic growth across Chicago's neighborhoods, with accomplishments including landmark ethics and good governance reforms, worker protection legislation, closing a record $1.2 billion budget gap, and implementing one of the most progressive and forward-looking budgets in the City's history.
In response to the COVID-19 pandemic, Mayor Lightfoot has led coordinated, citywide efforts to effectively address its impact, including the Racial Equity Rapid Response Team and the COVID-19 Recovery Task Force, among other initiatives.
Previously, Mayor Lightfoot served as a senior equity partner in the Litigation and Conflict Resolution Group at Mayer Brown, President of the Chicago Police Board, Chair of the Police Accountability Task Force, Chief of Staff and General Counsel of the Chicago Office of Emergency Management and Communications, interim First Deputy of the Chicago Department of Procurement Services, Chief Administrator of the Office of Professional Standards, and an Assistant United States Attorney.
A native of Massillon, Ohio, Mayor Lightfoot has been a resident of Chicago since 1986 and lives on the Near Northwest Side with her wife Amy Eshleman and their daughter.
« Back to past events
Upcoming events
Paul Vallas will discuss his plan for creating a permanent, standing infrastructure for equitable, community-led economic development centered in historically disinvested parts of the city.
Tuesday, Jan 31, 2023
Doors Open at 11:30 am / Event Begins at 12:00 pm
moderated by Laura Washington
Roseanna Ander, Mecole Jordan-McBride, Mike Milstein, Andrew Papachristos
Wednesday, Feb 1, 2023
Doors Open at 11:30 am / Event Begins at 12:00 pm
City Club of Chicago event tickets are non-refundable. Tickets are transferrable.
Our venues are wheelchair accessible. To request any other accessibility, please contact Amanda Agosti at aagosti@cityclub-chicago.org