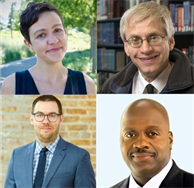 Our Mental Health Crises: Improving emergency response and care
moderated by WBEZ's Shannon Heffernan
Harold Pollack, Matt Richards, Sheriff Jerry Clayton
Wednesday, Apr 26, 2023
Doors Open at 11:30 am / Event Begins at 12:00 pm
Location
Maggiano's Banquets
111 W. Grand Avenue
Chicago, IL 60654
Map and directions

Join us for a conversation on what we are learning from collaborations among public health leaders, law enforcement officials, and researchers about ways we can improve emergency first-response and follow-up to mental health crises.
The City Club of Chicago and the University of Chicago Crown Family School of Social Work, Policy, and Practice are partnering on a year-long event series that explores the many ways that local leaders are partnering with researchers to advance evidence-based policies that strengthen Chicago's diverse communities.
Speakers
Dr. Harold Pollack
Harold Pollack is the Helen Ross Professor at the Crown Family School of Social Work, Policy, and Practice. He is also an Affiliate Professor in the Biological Sciences Collegiate Division and the Department of Public Health Sciences.
Co-founder of the University of Chicago Crime Lab, he is co-director of the University of Chicago Health Lab. He is a committee member of the Center for Health Administration Studies (CHAS) at the University of Chicago. His current NIH-funded research concerns improved services for individuals at the boundaries of the behavioral health and criminal justice systems, disabilities, and two major new efforts to address the opioid epidemic in Illinois and across the nation.
Past President of the Health Politics and Policy section of the American Political Science Association, Professor Pollack has been appointed to three committees of the National Academy of Sciences. He received his undergraduate degree, magna cum laude, in Electrical Engineering and Computer Science from Princeton University. He holds master's and doctorate degrees in Public Policy from the Kennedy School of Government, Harvard University. Before coming to Crown Family School, Professor Pollack was a Robert Wood Johnson Foundation Scholar in Health Policy Research at Yale University and taught Health Management and Policy at the University of Michigan School of Public Health.
Sheriff Jerry Clayton
Jerry L. Clayton is a 29-year criminal justice professional, currently serving his third term as the Sheriff of Washtenaw County, Michigan. Sheriff Clayton leads an organization of approximately 420 staff, serving a population of over 358,000, covering a 720 square mile geographical area.
Sheriff Clayton serves as co-chairman of Transform911, a national initiative to improve 911 communication centers to improve 911 emergency communication centers throughout the country, making them better able to assist the public.
Sheriff Clayton serves on the boards of numerous local organizations. These include the Washtenaw Area Council for Children, the local Chapter of NAMI (National Alliance on Mental Illness), the Washtenaw County Mental Health Treatment Court Advisory Board and the Washtenaw County Continuum of Care Board (ending homelessness).
Jerry has received international recognition for his work in the Criminal Justice field. In 2016 he was invited as a representative of law enforcement to attend an international Community Policing conference in Barcelona, Spain. In 2017, at the invitation of the United Nations High Commission on Human Rights, Sheriff Clayton was the representative from the United States and a presenter at an international conference on law enforcement and bias-based policing in Geneva, Switzerland.
Sheriff Clayton attended Eastern Michigan University, majoring in Public Safety Administration.
Matt Richards
Matt Richards is a healthcare administrator and LCSW with 15 years of progressively responsible experience in healthcare, clinical administration, and social service program development. As Deputy Commissioner of Behavioral Health, Matt oversee CDPH's community safety, mental health, and substance use and recovery programs.
Shannon Heffernan
Shannon Heffernan is a criminal justice reporter for WBEZ Chicago. She's also reported on mental health, poverty, labor and climate change.

Her reporting has earned her a Third Coast International Audio Festival Award, a National Murrow Award for best writing and a PRINDI for best writing, as well as awards from the Illinois AP and Chicago Headline Club. She worked on the 16 Shots podcast, which was a Scripps Howard finalist. Her work has been heard on local and national programming, including This American Life.

Shannon also writes short fictional stories and has been published Hobart, The Indiana Review and The Columbia Review, where she won the 2016 prize for fiction.
« Back to past events
Upcoming events
Chief Executive Officer
Chicago Public Schools
Tuesday, Dec 5, 2023
Doors Open at 11:30 am / Event Begins at 12:00 pm
moderated by Andrew Broy
Macke Raymond, Constance Jones and Greg White
Tuesday, Dec 12, 2023
Doors Open at 11:30 am / Event Begins at 12:00 pm
City Club of Chicago event tickets are non-refundable. Tickets are transferrable.
Our venues are wheelchair accessible. To request any other accessibility, please contact Amanda Agosti at aagosti@cityclub-chicago.org