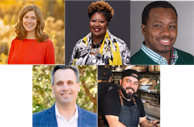 Pure Potential: The Opportunity for Equitable Economic Development in Chicago
moderated by Christen Wiggins
Brenda M. Palms, Darnell Shields, Aron Weisner, Jesse Iniguez
Thursday, Mar 23, 2023
Doors Open at 8:00 am / Event Begins at 8:30 am
Location
North Lawndale Employment Network
1111 S. Homan Street
Chicago, IL 60624
Map and directions
Speakers
Christen Wiggins
As program director of We Rise Together: For an Equitable & Just Recovery, Christen Wiggins oversees strategy, grantmaking, and partnerships toward the goal of building thriving neighborhoods for a stronger Chicago. She joined the initiative in 2021 with more than 20 years of experience working with and for non-profits in the fields of community development and affordable housing. She began her career on the U.S. Senate Banking Committee and worked on policy and advocacy for Habitat for Humanity International and Neighborhood Housing Services of Chicago. She ran an independent consulting firm dedicated to helping non-profits translate their vision for change into actionable plans for over a decade. She is a graduate of the University of Virginia and holds a master's degree in public policy from the University of Chicago.
Brenda M. Palms
Brenda Palms Barber is the President & CEO of the North Lawndale Employment Network, an urban workforce development agency, and founding social entrepreneur and CEO of Sweet Beginnings, LLC, a social enterprise using urban beekeeping to create jobs for those with significant barriers to employment. Brenda has served as President and CEO of NLEN since its founding in 1999. She launched NLEN's wholly owned subsidiary social enterprise, Sweet Beginnings, in 2004 to ensure its hardest to employ clients could get jobs and gain a history of employment. Under Brenda's leadership, NLEN has grown from two to 61 employees and generates an annual budget in excess of $5.5 million. Today, NLEN serves nearly 2,000 people per year.
Brenda is a graduate of Harvard's Strategic Perspectives in Non-Profit Management program and the Chicago Urban League's nextOne entrepreneurship program, which included classes at Northwestern University's Kellogg School of Management. She holds a Master of Science in Nonprofit Management from the Spertus Institute in Chicago.
Darnell Shields
Darnell Shields is Executive Director of Austin Coming Together. A passionate builder of relationships and innovative developments, Darnell is a lifelong Austin resident and co-owner of HairTech the Salon, a local business he started with his wife. He holds two Associate degrees from Wilbur Wright-City Colleges of Chicago (Applied Sciences & Liberal Arts) and earned a Bachelor of Science degree in Entrepreneurship from the University of Illinois at Chicago. Darnell is also an Inaugural Fellow of the Civic Leadership Academy at the University of Chicago and serves as Vice Chairman on the board of directors of the Jane Addams Resource Corporation.
Aron Weisner
Aron Weisner spent over 15 years as an executive at a national affordable housing investment firm, where he managed investment throughout the Midwest and South. He oversaw the investment of over $900 million in equity in affordable housing developments. Prior to this, Aron served on the working group that launched the Enterprise Green Communities building criteria and opened the development and investment operations in New Orleans following Hurricane Katrina. Aron also formed Weisner Capital Advisors, LLC to support innovations in affordable housing development throughout the United States.
In 2019, Aron and Scott Henry formed Celadon Partners. Together, the Celadon Partners team has generated a strong pipeline of affordable housing properties, targeting unique projects in markets with a high need for affordable housing.
Jesse Iniguez
Jesse Iniguez is an experienced entrepreneur and is Director of Coffee Operations at Back of the Yard Coffee Co. Back of the Yards Coffee Co. is a specialty coffee company located in Chicago's Back of the Yards community. Their mission is to develop and provide the highest quality coffee products while having a direct social, economic and environmental impact in the communities they serve. Jesse was born and raised in the Back of the Yards and is a graduate of the University of Illinois at Chicago.

« Back to past events
Upcoming events
Chief Executive Officer
Chicago Public Schools
Tuesday, Dec 5, 2023
Doors Open at 11:30 am / Event Begins at 12:00 pm
moderated by Andrew Broy
Macke Raymond, Constance Jones and Greg White
Tuesday, Dec 12, 2023
Doors Open at 11:30 am / Event Begins at 12:00 pm
City Club of Chicago event tickets are non-refundable. Tickets are transferrable.
Our venues are wheelchair accessible. To request any other accessibility, please contact Amanda Agosti at aagosti@cityclub-chicago.org