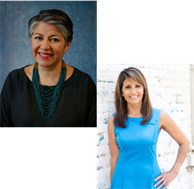 Andrea Sáenz
President and CEO of The Chicago Community Trust, in conversation with FOX 32's Sylvia Perez
Monday, May 1, 2023
Doors Open at 11:30 am / Event Begins at 12:00 pm
Location
Maggiano's Banquets
111 W. Grand Avenue
Chicago, IL 60654
Map and directions
Speakers
Andrea Sáenz
Andrea Sáenz (pronounced Ahn-dray-a Sigh-enz) is the president and CEO of The Chicago Community Trust. The Trust, one of the nation's largest and oldest community foundations, is committed to a vision of equity, opportunity, and prosperity for the entire Chicago region. The Trust's work is both professionally fulfilling and deeply personal for Sáenz. She is energized by the strength, creativity, connection, and cultural vibrancy that exists across the region. However, she has also experienced the obstacles too many Chicagoans still face as they strive to build financial stability and prosperity.
Before being named president and CEO in 2022, Sáenz served as the Trust's chief operating officer, overseeing information technology, learning and impact, and talent. In this role, she applied professional and personal insights to improve systems that affect people still left out of decision-making.
As First Deputy Commissioner for Chicago Public Library, a system of more than 80 neighborhood branches, Sáenz led efforts to reimagine the role libraries can play in improving community wellbeing. Her team pioneered a human-centered approach to designing library services that prioritize the lives and goals of community residents.
Before joining the Library, Sáenz was chief of staff to the Chicago Public Schools CEO, policy advisor for the U.S. Department of Education Office of Career, Technical and Adult Education, and executive director of HACE, a national nonprofit working to increase Latinx entry and success in professional careers. She began her social sector career leading community-based adult education and workforce development services at Congreso de Latinos Unidos in Philadelphia. In each of these roles, she seized every opportunity to reimagine civic institutions to engage and serve people impacted by poverty.
In 2019, Crain's Chicago Business recognized Sáenz as one of Chicago's 25 Most Powerful Latinos. She is a member of the Economic Club of Chicago and Leadership Greater Chicago. Her extensive board service includes National Louis University, American Civil Liberties Union, Chicago Public Education Fund, and Chicago United. As an immigrant from Ecuador who came to Chicago as an adult, Sáenz holds a master's degree in public administration from the University of Pennsylvania and a bachelor's degree in Latin American Studies from Scripps College.
Sylvia Perez
Sylvia Perez is a widely recognized and respected name in the Chicago news market. She's best known for looking beyond the headlines and reporting the personal and emotional sides of the major stories of the day.
Perez was a longtime anchor and medical reporter at WLS ABC7 before joining FOX 32 News in 2016. She also brings an expertise and interest in topics involving veterans. Reporting has always been in her blood. She credits her childhood as a military "brat," following her father around the world, with giving her the skills she needed.
Throughout her career, Perez has been recognized for her achievements with multiple awards, including Emmys and the Peter Lisagor award, recognizing the best of Chicago journalism given annually by the Chicago Headline Club.
More recently, she was recognized by the office of the Illinois Secretary of State for Excellence in Broadcasting commemorating Hispanic Heritage Month. Perez is generous with her time supporting several charities in the Chicago area. Her company, Sylvia Perez Productions, specializes in all aspects of event production for non-profits. She also sits on the board of Enabled Enterprises, an organization helping military veterans, serves as an ambassador for GoodCity Chicago, which champions inner-city entrepreneurs who give back to the city, and is a member of the National Association of Hispanic Journalists.
In her free time, Perez enjoys gourmet cooking and taking nature hikes on the many trails in and around Chicago.
« Back to past events
Upcoming events
Chief Executive Officer
Chicago Public Schools
Tuesday, Dec 5, 2023
Doors Open at 11:30 am / Event Begins at 12:00 pm
moderated by Andrew Broy
Macke Raymond, Constance Jones and Greg White
Tuesday, Dec 12, 2023
Doors Open at 11:30 am / Event Begins at 12:00 pm
City Club of Chicago event tickets are non-refundable. Tickets are transferrable.
Our venues are wheelchair accessible. To request any other accessibility, please contact Amanda Agosti at aagosti@cityclub-chicago.org