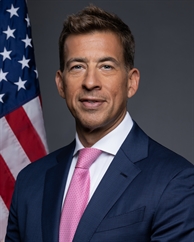 Secretary Alexi Giannoulias
Looking Ahead: The Plan for the Secretary of State's Office
Tuesday, May 9, 2023
Doors Open at 11:30 am / Event Begins at 12:00 pm
Location
Maggiano's Banquets
111 W. Grand Avenue
Chicago, IL 60654
Map and directions
Speaker
Secretary Alexi Giannoulias
Illinois Secretary of State Alexi Giannoulias was sworn into office as Illinois' 38th Secretary of State on January 9, 2023.
He is committed to transforming operations through modernization efforts, which will improve customer service, expand online services and reduce wait times. In addition, he is seeking to strengthen state ethics laws to curb corruption, protect voter rights and increase registration opportunities, and enhance public libraries to make learning resources more accessible across the state.
On his first day in office, Secretary Giannoulias signed a wide-ranging Executive Ethics Order to improve transparency, enhance protections afforded to victims of sexual harassment or threats of violence, and simplify the public's ability to submit complaints to the Inspector General's office.
He also released his Transition Team's comprehensive report that serves as a blueprint for modernizing the office, expanding services and transforming operations to best serve the people of Illinois.
In 2006, Giannoulias was elected Illinois State Treasurer, becoming the youngest State Treasurer in the nation at age 30.
After leaving the Treasurer's office in 2011, Giannoulias was appointed as chairman of the Illinois Community College System. He also became senior director at BNY Mellon Wealth Management and taught at Northwestern University. In 2018, he was appointed to serve on the Chicago Public Library's Board of Directors.
Secretary Giannoulias is also the CEO and founder of Annoula Ventures, which has invested in real estate and start-ups, including many Illinois-based companies.
Secretary Giannoulias graduated cum laude from Boston University with a degree in economics and earned a law degree from Tulane University's School of Law. He is a lifelong Chicagoan and still calls the city home along with his wife and their three daughters.
« Back to past events
Upcoming events
Featuring remarks from CPS CEO Pedro Martinez
Jadine Chou, Maria Degillo, Daniel Brown, Dr. LaTacia Morgan-Greene and moderated by Walter Katz
Thursday, Sep 28, 2023
Doors Open at 11:30 am / Event Begins at 12:00 pm
moderated by Amy Totsch
Rev. James T. Meeks, Raul Raymundo, Imelda Salazar and Richard Townsell
Tuesday, Oct 3, 2023
Doors Open at 11:30 am / Event Begins at 12:00 pm
City Club of Chicago event tickets are non-refundable. Tickets are transferrable.
Our venues are wheelchair accessible. To request any other accessibility, please contact Amanda Agosti at aagosti@cityclub-chicago.org