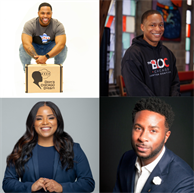 The Right to Eat: Stabilizing Access, Quality & Equity in Philanthropy
Moderated by Xavier Ramey
Panelists: Dion Dawson, Jamyle Cannon & Ashley Munson
Thursday, Jun 22, 2023
Doors Open at 11:30 am / Event Begins at 12:00 pm
Location
Maggiano's Banquets
111 W. Grand Avenue
Chicago, IL 60654
Map and directions
Speakers
Dion Dawson
Dion Dawson is a food-based social entrepreneur, philanthropic leader, and founder focused on health equity through an innovative and logistical lens. Dion's penchant for challenging the solvency of food insecurity through the stabilization of last-mile delivery and logistics has reinvigorated the traditional food distribution model.
With data-driven operations, consistent quality, and a deep commitment to a resident-informed process that meets residents and recipients where they are, he prioritizes the end-user experience. Dion founded Dion's Chicago Dream, a nonprofit organization that delivers a week's worth of fresh produce to the door steps of food insecure Chicagoans, totaling more than 500,000lbs of fresh produce provided, more than 20 jobs created and one powerful movement. Dion is an award-winning military journalist, public relations & communications expert, philanthropist, and son of Chicago's Englewood neighborhood.
His philanthropic achievements include being named an Echoing Green Fellow, 2023 Aspen Institute Food Fellow, 2023 University of Chicago Civic Leadership Academy Fellow, 2023 Chicago Bulls Martin Luther King Legacy Award recipient and 2021 American Express NGen Fellow. His writings have been featured in The Chronicle of Philanthropy and Crain's Chicago.
Jamyle Cannon
Jamyle Cannon is the Executive Director and Founder of The Bloc. He is the 2009 National Collegiate Boxing Champion and a Teach for America Alumni member. He holds a Bachelors Degree in Social Work from the University of Kentucky and a Masters in Education from Arizona State University. In 2016, after building a popular boxing program in his classroom, Cannon combined his love for youth development, boxing, and education to form The Bloc.
He has been recognized as a CNN Hero, a 4-Star Chicagoan by Windy City Live, an Economic Game Changer by the New Covenant Community Development Corporation, profiled as one of the Hardest Working Voices in Sports by Chicago Sun-Times, awarded the Rich O'Leary Community Sports Award at Notre Dame University, and is generally considered by the fighters in The Bloc to be the baddest man alive.
He has sincere plans to change the after school landscape of Chicago's West Side and provide community-building resources to his neighbors.
Ashley M. Munson
Ashley M. Munson is a uniquely blended community leader whose life mission is to not only advocate and represent people of color but to civically engage the culture along the way.
Munson currently serves as the Manager of Community Engagement and Government Affairs for the Obama Foundation. Her role plays a pivotal role in the support and programming around the Obama Presidential Center that will soon call Chicago, IL home.
Munson has spent her professional career advocating at the local, state and federal level to advance policy solutions to end food insecurity, improve pro-black and brown quality education and demand environmental justice in Chicago, Cook County and throughout Illinois.
Prior to her position at the Obama Foundation, Munson worked as a lobbyist who pushed legislation to highlight black and brown farmers, support federal food nutrition programs and grow local support for food systems to decrease hunger in black and brown communities. She has advocated at the State Capitol for the improvement of public education for primarily Black and Brown students in Illinois. Additionally, her experience has led her to serve as the Policy Coordinator for the Illinois Environmental Council (IEC). At IEC, her work included establishing strong relationships among leaders in communities of color who are committed to environmental stewardship and sustainability. Ashley helped educate legislators and stakeholders on energy and environmental issues.
Munson started her career in policy as a communication staffer for the Illinois House of Representatives. Her role with the Illinois General Assembly provided research and analytical support to the Democratic House members, while learning the intricate systems of Illinois Government. She is also a former campaign manager for the Indiana House Democratic Caucus, and graduate of Northwestern University and Purdue University.
As seen on CBS, NBC, the Chicago Tribune, Chicago Defender, and newspapers across the country, Munson is also Lead Organizer for the Juneteenth - March for US 2020 and 2021 event that was key in making Juneteenth a local, state, and national holiday. This march itself is comprised of the commemoration of the ending of slavery, and the celebration of Black culture.
Munson, also known as the neighborhood CNN, cultivated her passion for advocacy through her social media platform. She is a politico that aims to educate everyday people to understand political matters. In Chicago's own Tonight Show, with elements of humor and unequivocal competence, Munson educates community stakeholders, business owners, entrepreneurs, young people, friends, and family on all thing's politics.
Ashley's life mission is to represent women across the globe who are known as underdogs.
Xavier Ramey
Xavier Ramey is the Founder and Chief Executive Officer of Justice Informed, a globally-reaching, Chicago-based organizational design and social impact consulting firm that works with various institutions to evolve their cultural, operational, service and community strategies. From small startups to Fortune 500s, small nonprofits serving refugees to associations representing dozens of CDFIs across America, and spanning the gambit of corporate and nonprofit institutions, Xavier and his firm have built the organizational designs; led equity-focused trainings; provided executive team advisory services; and mediated challenging legal, reputational, or financial hazards for clients seeking to be socially impactful institutions that integrate powerful inclusive workplaces with industry-leading services and products. Known for bringing his "invitation-based approach" to urgent social change issues, his clients have included Ingredion, Emerson, Taproot Foundation, Northwestern University, Chicago Foundation for Women, the Museum of Contemporary Art, BBIF Florida, and more.
Aside from his work as an executive and lead consultant, Xavier is a global keynote speaker, an activist on matters of racial justice and policing, and a highly sought-after lecturer at top-ranked MBA and social impact university programs across the United States. A native of the west side of Chicago, he is a recognizable voice on the topics of community and economic development, policing and policy violence, and connecting the everyday person to transformative social change.
Xavier served the University of Chicago as the inaugural Senior Assistant Director for Social Innovation and Philanthropy, as the leader of the multimillion-dollar workforce development community and philanthropic strategy for the United Way of Metropolitan Chicago, as a Development Director at the Young Men's Educational Network, and as a consultant for organizations across Africa. He is a founding member of The #LetUsBreathe Collective, a member of the Rotary Club for Social Equity and Impact, and a Board member of Young Chicago Authors and Chicago Center for Arts and Technology.
« Back to past events
Upcoming events
Chief Executive Officer
Chicago Public Schools
Tuesday, Dec 5, 2023
Doors Open at 11:30 am / Event Begins at 12:00 pm
moderated by Andrew Broy
Macke Raymond, Constance Jones and Greg White
Tuesday, Dec 12, 2023
Doors Open at 11:30 am / Event Begins at 12:00 pm
City Club of Chicago event tickets are non-refundable. Tickets are transferrable.
Our venues are wheelchair accessible. To request any other accessibility, please contact Amanda Agosti at aagosti@cityclub-chicago.org