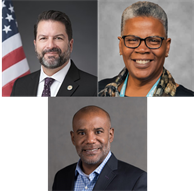 Youth Homelessness: Federal and Local Perspectives
Jeff Olivet- U.S. Interagency Council on Homelessness, Carolyn K. Ross- All Chicago, Bryan Samuels- Chapin Hall at the University of Chicago
Tuesday, Jul 25, 2023
Doors Open at 11:30 am / Event Begins at 12:00 pm
Location
Maggiano's Banquets
111 W. Grand Avenue
Chicago, IL 60654
Map and directions
The pandemic, affordable housing shortages, and inflation have exacerbated homelessness in major cities throughout the U.S., and Chicago is no exception. In this discussion, federal and local experts will look specifically at youth homelessness. Experts will address the question of how advocates and agencies can work with the city to get upstream of housing instability for teens and young adults. The discussion will include the potential impact that the federal government's All INside and other initiatives can have on Chicago.
Speakers
Jeff Olivet
Jeff Olivet is the executive director of the U.S. Interagency Council on Homelessness (USICH). He has worked to prevent and end homelessness for more than 25 years as a street outreach worker, case manager, coalition builder, researcher, and trainer. He is the founder of jo consulting, co-founder of Racial Equity Partners, and from 2010 to 2018, he served as CEO of C4 Innovations. Throughout his career, he has worked extensively in the areas of homelessness and housing, health and behavioral health, HIV, education, and organizational development. Jeff has been principal investigator on multiple research studies funded by private foundations and the National Institutes of Health. Jeff is deeply committed to social justice, racial equity, gender equality, and inclusion for all. He has a bachelor's degree from the University of Alabama and a master's degree from Boston College.
Carolyn K. Ross
Ms. Ross serves as the President & Chief Executive Officer of All Chicago Making Homelessness History. She has years of experience working in the field of human services, homelessness prevention, behavioral health, child welfare, and criminal justice. She has developed and implemented programs including prevention and intervention services for youth and families; prevention and Substance Use Disorder treatment for youth and adults; criminal justice diversion programs; and strategies to help build community capacity. Her career began with Youth Service Project, Inc. in Chicago, Illinois.
She relocated to the Illinois Quad Cities Community to work with the Center for Alcohol & Drug Services in 1990 and then went on to serve as the Executive Director of the Martin Luther King, Jr. Community Center in Rock Island, Illinois. She returned to the Center for Alcohol & Drug Services in 2001 to serve as the Chief Executive Officer. In 2009, Ms. Ross joined TASC, Inc. in Chicago, and then in 2014, joined the Illinois Department of Children and Family Services. Ms. Ross served as the President and CEO of Heartland Center for Behavioral Change prior to joining All Chicago in July of 2019. She is a graduate of DePaul University.
Bryan Samuels
Bryan Samuels is the Executive Director of Chapin Hall at the University of Chicago. At Chapin Hall, Samuels' deep expertise is aimed at the active integration of empirical evidence into public policy decision making, as well as into the management of government agencies, the design and delivery of programs, and frontline practice. He leads the organization in accelerating the use of evidence by those whose mission is to improve the lives of children, adolescents, and families.
Across his career, Samuels' work has centered on identifying and addressing inequities. Today, he is shaping Chapin Hall's national leadership in efforts to address racial inequity in child welfare, juvenile justice, youth homelessness responses, and other human service systems.
Since taking the helm of Chapin Hall, Samuels has focused on matching Chapin Hall's historical reputation for rigorous research with unparalleled in-house policy expertise to further the organization's impact. Samuels' life experiences and broad experience as a decision maker himself—and his lifelong work in partnership with policymakers and practitioners—undergirds his successful approach to shaping actionable and sustainable solutions based on evidence.
Prior to joining Chapin Hall in 2013, Samuels was the commissioner of the Administration on Children, Youth and Families at the U.S. Department of Health and Human Services. Samuels administered federal programs addressing child abuse and neglect, youth experiencing homelessness, domestic and intimate partner violence, and teen pregnancy. Samuels has also served as chief of staff at Chicago Public Schools and as director of the Illinois Department of Children and Family Services, the nation's third-largest child welfare agency.
Samuels holds a Masters of Public Policy from the Harris School of Public Policy Studies at the University of Chicago and a BA in Economics from the University of Notre Dame. He has lectured at the University of Chicago's Crown Family School of Social Work, Policy, and Practice. Samuels has testified before Congress about the well-being of children in foster care, and frequently presents and writes on topics including the impact of trauma on child well-being and the use of evidence-based interventions to ensure all young people reach their full potential.
« Back to past events
Upcoming events
Chief Executive Officer
Chicago Public Schools
Tuesday, Dec 5, 2023
Doors Open at 11:30 am / Event Begins at 12:00 pm
moderated by Andrew Broy
Macke Raymond, Constance Jones and Greg White
Tuesday, Dec 12, 2023
Doors Open at 11:30 am / Event Begins at 12:00 pm
City Club of Chicago event tickets are non-refundable. Tickets are transferrable.
Our venues are wheelchair accessible. To request any other accessibility, please contact Amanda Agosti at aagosti@cityclub-chicago.org