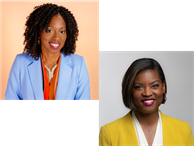 Dr. Ngozi Ezike
President and CEO of Sinai Chicago in conversation with WTTW's Brandis Friedman
Wednesday, Aug 9, 2023
Doors Open at 11:30 am / Event Begins at 12:00 pm
Location
Maggiano's Banquets
111 W. Grand Avenue
Chicago, IL 60654
Map and directions
Speakers
Dr. Ngozi Ezike
Dr. Ngozi Ezike began serving as President and CEO of Sinai Chicago, the largest private safety net health system in the state of Illinois, in June 2022. She is the immediate past Director of the Illinois Department of Public Health (IDPH), where she valiantly navigated the state through the most difficult waves of the Covid-19 pandemic. Dr. Ezike is the first Black woman to lead Sinai Chicago in the system's 103-year history.
Dr. Ezike is a board-certified internist and pediatrician, who worked at Cook County Health, serving for more than 15 years in various direct patient care and administrative roles, including medical directorships at the Austin Health Center and Juvenile Detention Center. She also delivered inpatient care at Stroger Hospital and primary and preventive care in community and school-based clinics.
Dr. Ezike is a nationally recognized public health and health leader. In addition to her degrees from Harvard University and the University of California, San Diego School of Medicine, Dr Ezike holds honorary doctorates from Knox College, Southern Illinois University, and Rosalind Franklin School of Medicine. She earned a business management certificate from Harvard Business School.
She is the recipient of dozens of awards and accolades including the Lester H. McKeever Individual Service Award from the Chicago Urban League, Motorola Civic Service Award, the Jane Addams Medal of Freedom, and USA Today's Inaugural Women of the Year Award for the State of Illinois.
An advocate for promoting selfcare and healthy living, particularly in challenging times, Dr. Ezike is an avid tennis player and enjoys traveling with her husband and four children.
Brandis Friedman
Brandis Friedman is a co-anchor and correspondent for Chicago Tonight, and the host of Chicago Tonight: Black Voices, both on Chicago's PBS affiliate, WTTW. Her reporting on education and criminal justice has appeared on PBS' NewsHour and NPR's The Takeaway. Before joining Chicago Tonight, Brandis worked as a reporter and anchor for WBBM Newsradio 780, and as a producer/reporter for WJLA-TV/ABC-7 in Washington, DC. In addition to earning multiple regional Emmy Awards for her work, she has earned multiple Peter Lisagor Awards, recognizing excellence in journalism, from the Chicago Headline Club.
Originally from Mississippi, Brandis' work has taken her to numerous cities including Kansas City, Missouri, Little Rock, Arkansas and Wichita Falls, Texas. She has served on the board of the Chicago Headline Club, which is the local chapter of the Society of Professional Journalists, and is a member of the Education Writers Association and National Association of Black Journalists. Brandis is a graduate of Dillard University in New Orleans, where she earned a degree in Mass Communications, and Columbia University in New York City, where she earned her Master's Degree in Journalism. Brandis lives in Evanston with her husband and two sons.
« Back to past events
Upcoming events
Chief Executive Officer
Chicago Public Schools
Tuesday, Dec 5, 2023
Doors Open at 11:30 am / Event Begins at 12:00 pm
moderated by Andrew Broy
Macke Raymond, Constance Jones and Greg White
Tuesday, Dec 12, 2023
Doors Open at 11:30 am / Event Begins at 12:00 pm
City Club of Chicago event tickets are non-refundable. Tickets are transferrable.
Our venues are wheelchair accessible. To request any other accessibility, please contact Amanda Agosti at aagosti@cityclub-chicago.org